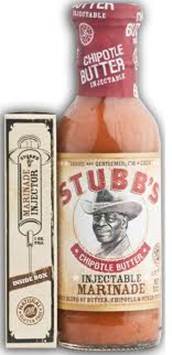 Product Name:  Stubb's Injectable Marinades

Product Information: Stubb's Legendary Bar-B-Q, makers of all-natural, premium Stubb's Bar-B-Q sauces, rubs and marinades, is offering a new sweet and spicy sauce flavor, new injectable marinades and a reformulated premium spice rub line. The new items reflect some of 2012's top food trends:
Sweet & spicy: Combining two favorite tastes in one delicious sauce, Stubb's new Sweet Heat is a combination of molasses and brown sugar with a touch of chipotle. Sweet Heat is the newest addition to the Stubb's all-natural sauce lineup that includes Original, Spicy, Smokey Mesquite, Honey Pecan and Hickory Bourbon.
Injectable marinades: Once the domain of specialty Cajun cooks, injectable marinades are now appearing on grocery store shelves. Stubb's Injectable Marinades come in two varieties, Texas Butter and Chipotle Butter, and are packaged with their own disposable injectors to allow home cooks to infuse their pork, chicken, turkey and beef with intense flavor.
Spice rubs: Up almost 10 percent in 2011, spice rubs are projected to continue to grow in 2012. Stubb's has reformulated its line of spice rubs to bring a smoky, BBQ twist to the trend and make it easier for home cooks to create amazing BBQ. New flavors include Bar-B-Q Rub, Pork Rub, Beef Rub, Chicken Rub and Steak Rub.
Gluten free: All Stubb's products, including the new injectable marinades, rubs and Sweet Heat sauce are certified gluten free. In fact, Stubb's is the only mainstream national BBQ brand to carry the Gluten Free Certification Organization seal, which it first earned in 2010, on its entire line.
No high fructose corn syrup: All Stubb's products use only pure cane sugar and molasses for sweetness and contain no high fructose corn syrup.
Stubb's authentic sauces, rubs and marinades are available in 85 percent of grocery stores nationwide.
Texas-based Stubb's has an easy solution for the upcoming holidays with new Injectable Marinades in Texas Butter and Chipotle Butter flavors. Packaged with their own injector they help home cooks get a juicy, flavorful holiday bird without added calories or artificial ingredients, such as the phosphates used by other brands. (The marinade is only 10 calories per tbsp. and, like all Stubb's products, is all-natural, certified gluten free and contains no high fructose corn syrup.)
Product Price: $3.79
Purchase Information: Available at 85% of grocery stores nationwide.
We love great tasting food and Stubb's is perfect for that.  I'm not one to slave over a hot stove for very long so anything that is simple to use gives my food good flavor, works for me!  Stubb's is perfect for the upcoming Thanksgiving holiday to make your turkey taste even better.    Check out their website for some fun recipes too!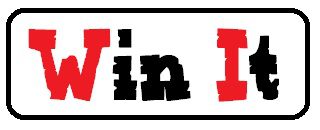 (1) Koupon Karen reader will win some coupons for FREE Stubb's Products.

To enter the giveaway, use the rafflecopter widget below. You can now sign in with Facebook and it will remember you each time you enter another rafflecopter giveaway. Of course Facebook is in no way associated with this giveaway, the people of rafflecopter just want to make it easier for you to enter giveaways now.
As a reminder, comments left on Facebook or Twitter will not be included.
Disclosure: I received a Free product for review. My opinions are 100% mine.