This post is Sponsored by Stride Rite but my opinions are 100% my own!
My girls LOVE bling, especially my younger one.   The more bling the better, especially on her shoes and her headbands.  It's cute and that is what girls should do, right?   So let me tell you how excited they both were when the Keds from Stride Rite arrived at our door, with bling on them.
For those of you that are confused as to what I mean by bling, I am talking about jewels and sparkles.   The more the merrier.
Check out these sneakers we received from the Fall Collection…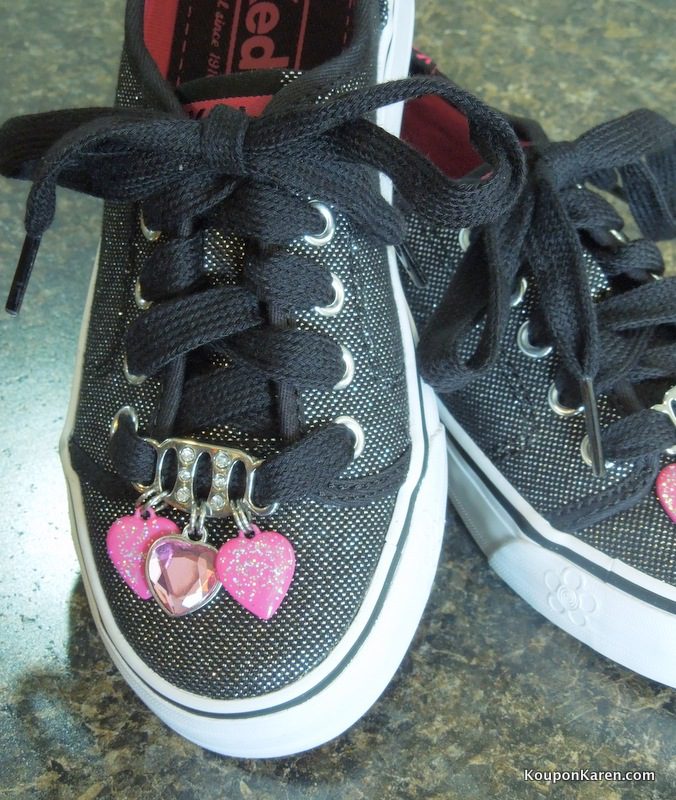 Those are the Keds Double Dutch and they sell for $40.  They are a fresh take on a Keds classic with a removable charm accessory.  Perfect with so many outfits, this lace-up sneaker has a comfy padded footbed and a platform rubber outsole.
Removable charm for versatility
Leather or sparkle canvas upper
Padded footbed for added comfort
Rubber outsole for traction
Imported
They are great for gym days but yet they look cute with so many outfits!   These are for my 1st grader and she can't wait to wear the charm, once the sneakers don't fit her anymore.   However, she wasn't very pleased with me that they were tie up sneakers as she can't tie her shoes yet.  But I told her this is the best reason to learn so we are working on it.  I'm hoping she catches on as quickly as her sister did, but not sure how it will go.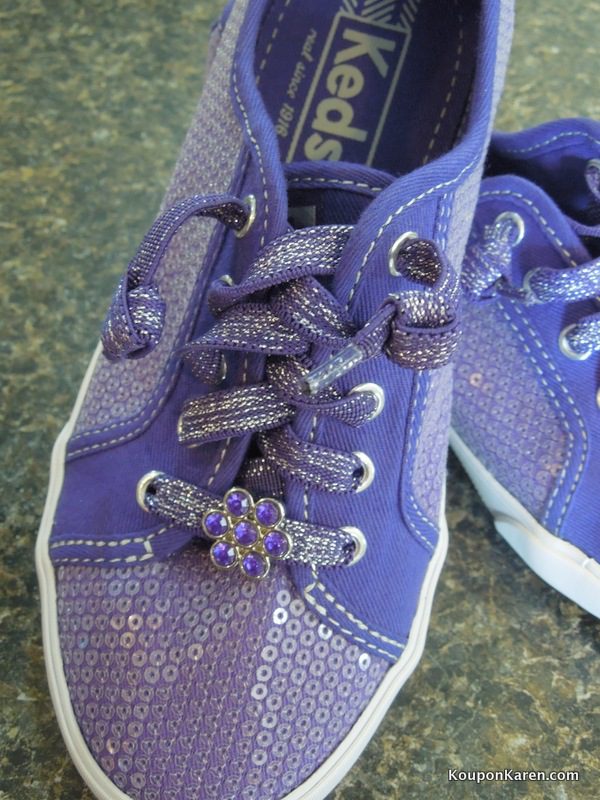 Those are the Keds Celeb in Purple Sequins and my older daughter LOVED these.  It's funny because they were both content with the shoe they received but my little one hopes her sister doesn't wear these out before they don't fit her anymore because she wants to wear them too!   These also come in Pink Twill Sequins,  Black Sequins and then plain white.  They sell for $38-$40 on the Stride Rite website.
These don't need to be laced as the laces are elastic and work as if they were laced.  However on days she is running around and for gym at school, I told her she is to tie them so they are tight and her foot doesn't come out.   But otherwise they fit her foot well but do run a little on the small side as she wears a 13 most times and the ones we received were a size 1.
These are also a fresh take on a classic look, the Keds Celeb features top stitch detailing and metallic laces for added flair. The perfect complement to any outfit, this lace-up sneaker has a comfy padded footbed and rubber out sole.
Twill and sequins or leather upper
Lace-up closure for a secure fit
Padded footbed for added comfort
Rubber outsole for traction
Imported
The Stride Rite Children's Group includes a variety of brands (Stride Rite, Keds, Sperry Top-Sider, Saucony, Keds and Jessica Simpson) loved by kids and parents alike. These shoes scream "Back to School" – not only are they fashionable, they are functional and proven effective for childhood foot health and development.
What did we think about the sneakers?  We loved them.  I grew up wearing Keds and Stride Rite brand shoes and they are both brands I trust and I know last.  I've bought cheaper sneakers else where but not anymore because when it comes down to it, 2-3 pairs of cheap sneakers equals 1 pair of better sneakers and you can sometimes pay more buying 2-3 cheap ones!  These are great sneakers that fit my girls well and I know we'll get a lot of use out of them.  And they are super cute for girls so wearing sneakers isn't such a bad thing.
My girls will both wear these with dresses and skirts as well as shorts and pants!
Want to see more of the Fall Trends at Stride Rite?  Check out their 2013 Fall Trends Book.
Disclosure: I received a Free product for review. My opinions are 100% mine.