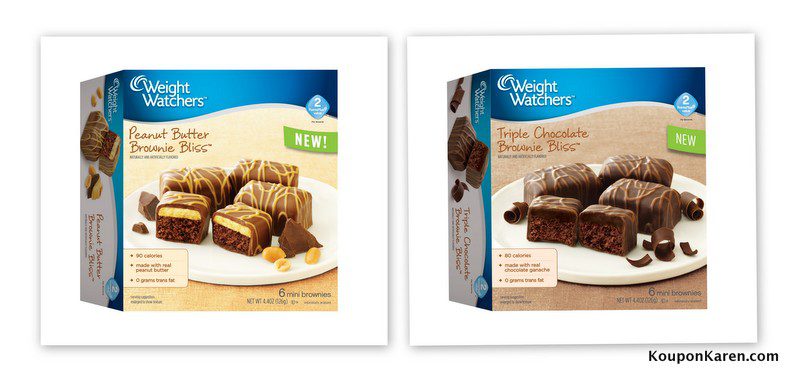 This post is Sponsored by Weight Watchers but my opinions are 100% my own!
Weight Watchers has a new dessert on the market that is incredibly delicious if you ask me!  And I have a very good sweet tooth so I think I'm pretty qualified to say this.  As most of you know that have been following my blog for a while, I'm working on losing weight and eating healthier.   But I can't do it without having something sweet from time to time so products like these help me from over indulging.
The very awesome people from Weight Watchers sent me some of these deliciously sinful brownie bites for us to try.  But they made it a little interesting.  I received two sets of boxes, one had the Weight Watchers brand on the box and the other two were just brown boxes with the product name on them.   The idea was to do a blind test to see if anyone would even guess they were Weight Watchers.   I thought this would be fun to do one night when we had a family dinner at my parents house…. and it was!
My mother always has something chocolate for all the kids when we have a family dinner so I told her I brought something instead.  I told her I wanted everyone to try them before I told them who made them.  Since my family knows what I do, they figured it could have been anything.  Even my girls had no idea what they were.
I opened up each box and told them all, including my teenage nephews, to try these with an open mind but I assured them they were delicious as I had already tried them both myself.  So everyone dug in and the guesses started coming.  But they were all wrong.   Then all of a sudden it hit my sister-in-law and she asked me if they were Weight Watchers.   However it took a lot of guesses before she got it right.
Needless to say they were all super impressed when I told them that each brownie bite was worth only 2 points on the Weight Watchers program.  They are so rich and yummy that you would think it was more.   However, they aren't very big either which is why they are called bites and are worth 2 points.  I can manage to get 4 small bites out of them but it's worth it because they are really good.
They come in two varieties:
Triple Chocolate Brownie Bliss™ - A decadent brownie layered with creamy, chocolate ganache and a chocolaty coating. Each individually wrapped brownie is 80 calories.
Peanut Butter Brownie Bliss™ - A decadent brownie layered with creamy, real peanut butter and a chocolaty coating. Each individually wrapped brownie is 90 calories.
The Triple Chocolate has a lot of chocolate and is extremely rich so really more than one bite would bother my stomach, that is how rich they are.  But they are delicious!   I like the Peanut Butter ones better as they aren't as rich but they sure don't lack flavor.  I almost taste a little but if salt mixed with sweet on these and I could seriously enjoy these all the time.   And at 90 calories they are the perfect dessert to not feel left out when everyone else is eating something sweet.
These hit stores in the middle of August so you should see them now.  I've found them in my local Stop & Shop with the other Weight Watchers boxed products.  If you want a sweet treat that is satisfying but low in calories, I recommend you try these.  And then come back and let me know what you think!
Disclosure: I received a Free product for review. My opinions are 100% mine.