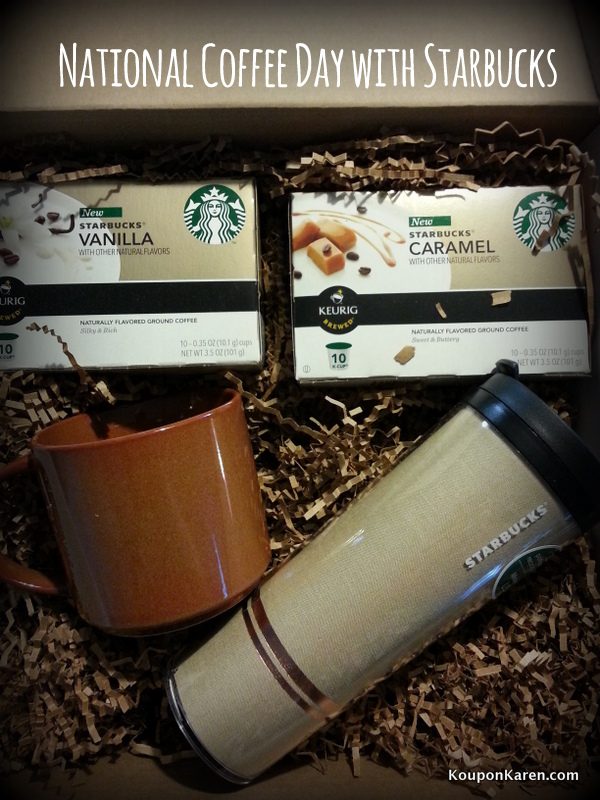 This post is Sponsored by Starbucks but my opinions are 100% my own!
In honor of the first official day of Fall (9/22/13) and National Coffee Day (9/29/13) and in celebration of Starbuck's NEW K-Cup Flavors – Caramel & Vanilla – I'm sharing with you a warming way to celebrate the changing season!!
Starbucks sent me the beautiful package above so I could try their two new flavors at home, and on the go.  I rarely stop at coffee shops anymore and almost always make my coffee at home now so I'm excited to have this really cool travel mug to take it on the go!
The Caramel Single Serve cups filled my kitchen with the wonderful smell of caramel.  I was almost expecting to take a sip of pure caramel, the aroma was that great.  But I didn't.  However, the coffee was full of flavor but not very sweet at all.  I still had to add a little sweetener to it so if you don't like to sweeten your coffee, this is perfect for you.   Caramel is definitely a flavor that makes me think of fall and also a flavor I will be drinking today in honor of National Coffee Day!  But even though it reminds me of fall,  I also enjoyed brewing it over ice for a nice Iced Caramel Coffee!  YUM!
About Starbucks Caramel Coffee
The flavor of buttery caramel combined with lightly roasted coffee. So simple. So sweet. Caramel adds just the right touch of richness to every cup. Our blend of caramel flavor with a medium-roasted coffee creates moments to savor from the brewing aroma to the very last sip.
Add some tasty fund to your cup before brewing: marshmallows, almond extract, or hot chocolate mix.
I would have never thought to add almond extract to coffee but I did per the suggestion above and it was delicious!  I only added a small drop because a little goes a long way.   The combination of the Caramel and Almond was just delicious.  You have to try it!
The Vanilla Single Serve cups were delicious as well, but reminded me of the typical french vanilla coffee!  However,  they were delicious and definitely didn't disappoint me!  I also had to add sweetener to this coffee as it wasn't very sweet but full of flavor and I suppose it would be just as good over ice.
About Starbucks Vanilla Coffee
A blend of luscious, natural vanilla with lightly roasted coffee. A generous kick of vanilla flavor transforms coffee into a deliciously satisfying treat. Our recipe is an enticing blend of lighter-roasted beans and vanilla flavor that you can enjoy anytime.
Add some tasty fun to your cup before brewing: ground cinnamon, brown sugar, or hot chocolate mix.
Since I loved the almond extract with the Caramel Coffee I decided to try another one of their suggestions.  I like to add Hot Chocolate to my regular coffee so now about adding it to the Vanilla coffee.  And guess what?  It was delicious!   Just the right amount of Vanilla flavor to slightly alter the flavor than had I used regular coffee.  Definitely a yummy treat that was more like a dessert.  I bet it would be delicious over ice as well!   I also tried adding some brown sugar to it per the suggestion above but it was a bit too sweet for me.  But that's just my taste.

(1) Koupon Karen reader will win a box of Starbucks Caramel K-Cups, Vanilla K-Cups, a Starbucks Coffee Mug and Travel Mug.

To enter the giveaway, use the Giveaway Tools widget below. Email and feed subscribers will need to click-through to the site to enter the giveaway.
As a reminder, comments left on Facebook or Twitter will not be included. You must follow the instructions on the widget about the proper way to enter.   Of course Facebook is in no way associated with this giveaway!
Disclosure: I received a Free product for review. My opinions are 100% mine.