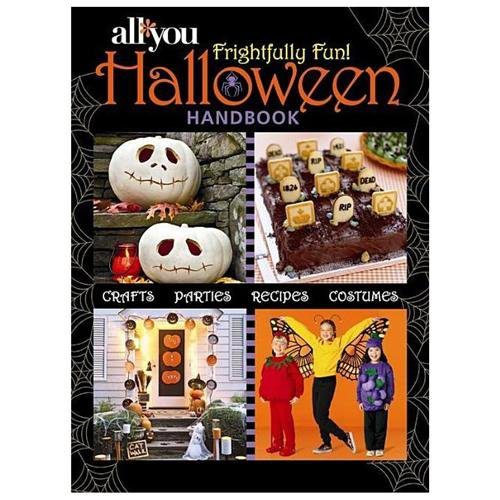 This post is Sponsored by All You Magazine but my opinions are 100% my own!
If you are looking for a complete guide to celebrating Halloween with low-cost, big-bang ideas for costumes, decorations, recipes and crafts, then All You has a book for you!  The All You Frightfully Fun Halloween Handbook.
About Frightfully Fun Halloween Handbook
ALL YOU magazine introduces its first-ever Halloween book: ALL YOU Frightfully Fun Halloween Handbook, the ultimate guide to celebrating Halloween affordably. The book packs in budget-savvy ideas for Halloween costumes, decorations, recipes and crafts. Written by the editors of ALL YOU, every idea includes easy-to-follow instructions and a list of ingredients or supplies needed. The book also includes dozens of templates to help give projects a professional look.
The 192-page book is $16.95 and published by Time Home Entertainment Inc.   This is something you can use over and over again as the years go on because the ideas will not go out of style.
This book offers low-cost ideas for toddlers, teens or adults for your annual spookfest. You'll find everything you need for an outrageously fun Halloween, including soup-to-nuts theme parties for all ages.
Some features in the book include:
GET YOUR GUARD ON: Transform Pumpkins into Creepy Creatures (p. 4)
Get in the spirit by making pumpkin decorations for the front porch or dining room table from adorable pumpkin families to classic jack-o-lanterns to down-right scary skulls.
HAUNT YOUR HOUSE: Create Spooktacular Outdoor Displays (p. 20)
Send chills up the spine of trick-or-treaters and passerby with spooky decorations for the front door, porch and yard. Ideas include covering the doorbell with a black-caped witch, sitting a life-sized pumpkin man on the porch, and hanging flying ghosts from trees.
DECORATE YOUR DIGS: Give Rooms an Eerie Glow with Crafts (p. 38)
To help set the mood in the house, ALL YOU shares loads of ideas and inspiration to transform rooms. For an eerie glow, create miniature haunted dollhouses, googly-eyed spiders or ghostly window treatments. To celebrate in a more subdued elegant fashion, display framed leaves, faux pumpkins or harvest vases made from winter squash.
GATHER THE GHOULS: Throw a Fang-Tastic Theme Party (p. 62)
Throw a party with suitably festive food and decorations. ALL YOU provides dozens of recipes for appetizers, main dishes, sides and desserts, and suggests setting the table with bat mobiles, ghost lights and other spooky ideas.
SWEETS AND TREATS: Whip Up Some Terrific Food (p. 94)
Delight Halloween revelers with creepy-crawler cupcakes, spider web cakes and dozens of other spirited desserts. Also included are easy-bake treats to use up all that leftover trick-or-treating candy.
CRAFT A DISGUISE: Make Curiously Captivating Costumes (p. 130)
Be it a princess, a robot, or a bunch of grapes, ALL YOU offers costume ideas for the whole family to help bring dreams to life.
You can find this book in several stores including online at Amazon and at the following stores.
B&N.com
Food Lion
Raley's
Save-Mart
Some Walmart locations
Safeway and their subsidiaries: Vons, Pavilions, Dominick's, Randalls, Tom Thumb and Carrs
ALL YOU magazine is available at Walmart stores nationwide, by subscription and at select chains in the Southeast such as Publix, Target, CVS, Kroger and more.   ALL YOU Magazine is one of my favorite magazines and I look forward to receiving it every single month.

This isn't just a magazine, it's a book.  There are 192 pages and it's full of awesome ideas.  Look at how thick it is…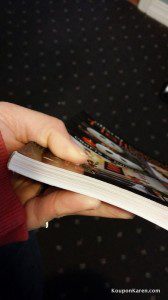 I was inspired by so many ideas just flipping through the book the first time.  I'm going to use a few ideas for sure this week.  Some of them are even good to keep up after Halloween and through November for Thanksgiving.
I love this idea of putting a mask on your pumpkins.  This way if you don't have the time or the skill to carve them, you can still decorate and display them.  How fun, right?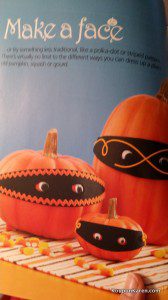 And I love how they used the flower pots to make these fun decorations that you can definitely keep up all through the fall season..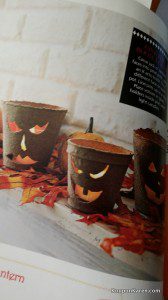 Such fun ideas and this is just 2 out of 192 pages.  I highly recommend adding this to your holiday book collection.   My kids are going to love looking through this book and I'm sure they'll find lots of ideas for us to do together.

(1) Koupon Karen reader will win a copy of ALL YOU Frightfully Fun Halloween Handbook!!

To enter the giveaway, use the Giveaway Tools widget below. Email and feed subscribers will need to click through to the site to enter the giveaway.
As a reminder, comments left on Facebook or Twitter will not be included. You must follow the instructions on the widget about the proper way to enter.   Of course Facebook is in no way associated with this giveaway!
Disclosure: I received a Free product for review. My opinions are 100% mine.