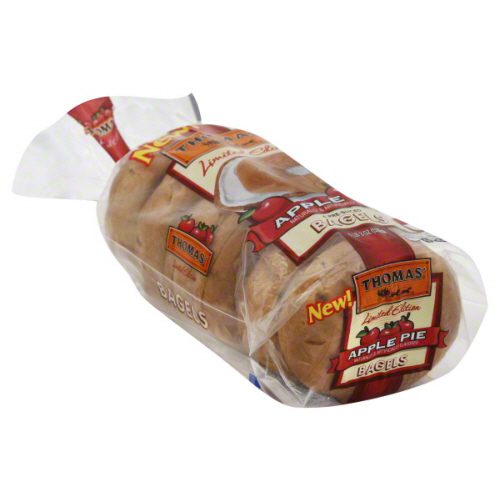 This post is Sponsored by Thomas' Bagels but my opinions are 100% my own!
Thomas' has another Limited Edition product that is on shelves through the end of August besides the Banana Bread English Muffins.  You can also find some Apple Pie Bagel that we loved just as much as the English muffins.
Delivering the aroma and flavor of freshly baked apple pie, Thomas' Apple Pie Bagels are delicious toasted with your favorite butter or cream cheese.   Actually my girls have decided that they taste great with Apple Jelly as well!
They are a bit sweet but it's not too much for in the morning however I think they are best in the evening with a cup of coffee.  I really enjoy something like this when I have my evening coffee and I could easily get addicted to these.
We have talked about some other things that would be yummy on top of these and I've been meaning to get some Cinnamon Cream cheese because I imagine that would be so much better than regular cream cheese on these Apple Pie Bagels.
Each Thomas' Apple Pie Bagel is made with real apples and has 14 grams of whole grain, 3 grams of dietary fiber and 9 grams of protein per bagel.    You can definitely tell they are made with real apples because the flavor is there, and the flavor of real apples can not be replaced.
These seem like more of a fall flavor so perhaps they will change their minds and keep them on shelves a bit longer than August, unless they have something even better coming up for fall.
Unfortunately these aren't available all over the US.  Thomas' Apple Pie Bagels are available through the end of August in the following states: CT, DE, IL, KY, KS, MA, MD, ME, MI, MN, MO, ND, NH, NJ, NY, OH, PA, RI, VT, WI for and sell for about $4.49 – $4.69.
Disclosure: I received a Free product for review. My opinions are 100% mine.