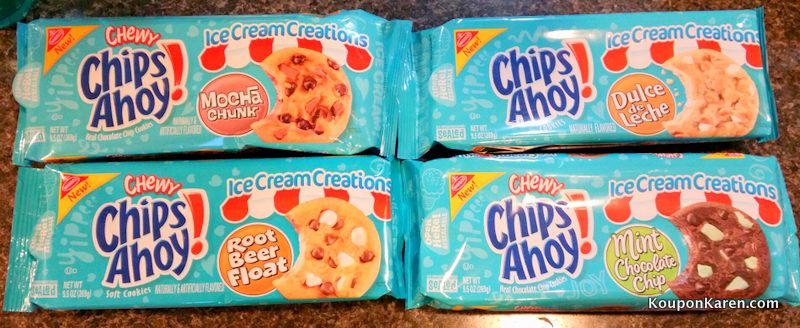 This post is Sponsored by Chips Ahoy! but my opinions are 100% my own!
We all love cookies and we all love ice cream so why not put them together?  Chips Ahoy! did and let me tell you they the results are delicious!  (yes I tried them all!).
America's favorite chocolate chip cookie introduces new Chips Ahoy! Ice Cream Creations in four innovative flavors inspired by America's other favorite treat – ice cream. No melting, no brain freeze, just yummy goodness that is sure to please any cookie (or ice cream) fan.
"It Takes Ahoy!" to make cookies inspired by ice cream, and this month Chips Ahoy! will launch varieties including:
Dulce de Leche (my fav!!!!) – For slightly sweet caramel flavor, there's Chips Ahoy! Ice Cream Creations Dulce de Leche, a delicious and crispy cookie with dulce de leche chips.
Mint Chocolate Chip – For a minty, chocolaty taste, look no further than Chips Ahoy! Ice Cream Creations Mint Chocolate Chip – a chewy, double chocolate chip cookie with mint chips.
Mocha Chunk – Coffee and chocolate lovers unite to savor a delicious chewy chocolate chip cookie with a blend of mocha chunks and chocolate chips in Chips Ahoy! Ice Cream Creations Mocha Chunk.
Root Beer Float – No straw required for Chips Ahoy! Ice Cream Creations Root Beer Float! This chewy cookie comes packed with vanilla and root beer flavored chips to deliver that one of a kind classic taste of a root beer float.
The packaging itself is fun but the taste of these cookies is pure joy.  I'm a huge sweet eater (which is a problem for me I'm working on) so if I do indulge it has to be something good to get me off track.  And these cookies are difinitely worth it. Chips Ahoy are already my favorite brand of cookies and this just tops it off.
I prefer the crunchy cookies over the soft baked one so the Dulce de Leche were my favorite.  Not just because of the crunch but because of the flavor too.  The caramel combined with the awesomeness of Chips Ahoy is amazing.   And being a coffee lover that I am, I really enjoyed the Mocha Chunk and so did my kids.  They think it's cool that they are having a cookie with 'coffee' in it.   The Mint Chocolate chip is a double chocolate cookie, which you can't get better than that – except if you add mint chips to it!  YUMMY!!  And then there is the Root Beer Float – I would have never thought to turn the classic root bear float into a cookie but boy was it amazing!
These are really, really good so grab them next time you are in the store for cookies.  And let me know what you think!

(1) Koupon Karen reader will win (4) packages of Chips Ahoy! Ice Cream Creation Cookies – one of each flavor!

To enter the giveaway, use the Giveaway Tools widget below. Email and feed subscribers will need to click-through to the site to enter the giveaway.
As a reminder, comments left on Facebook or Twitter will not be included. You must follow the instructions on the widget about the proper way to enter. Of course Facebook is in no way associated with this giveaway!
Disclosure: I received a Free product for review. My opinions are 100% mine.