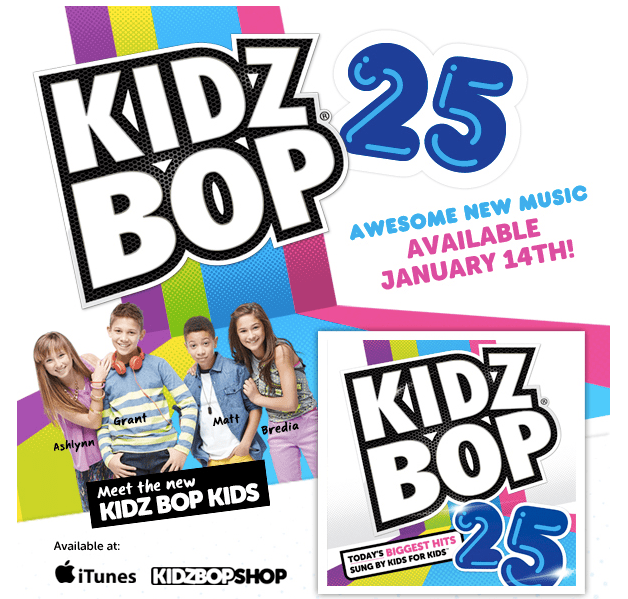 This post is Sponsored by Kidz Bop but my opinions are 100% my own!
My girls love music and dancing but they especially love Kidz Bop!   They were very excited to recently learn that there is a Kidz Bop channel on Sirus XM radio so now it's Kidz Bop all the time in the car.  At least when my husband isn't in the car.   And honestly I don't mind because I really enjoy the music too.  If you aren't familiar with Kidz Bop it's all of today's recent top music only sung by kids – for kids.   What that means is it's cleaned up!  Lets face it the music today is not appropriate for our kids but they love music.  So Kidz Bop will give them that fun music to get them up and moving but in a G rated version.
On January 14, 2014 Kidz Bop 25 will be released and this album also introduces some new Kidz Bop singers – Ashlynn, Grant, Matt and Bredia.  They are all extremely talented kids and my daughters hope to be like them one day.  I'm not too sure of that but I will let them dream.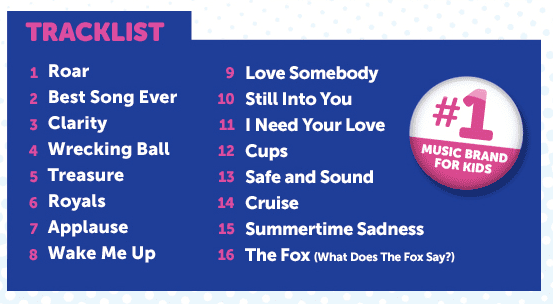 Kidz Bop 25 in stores January 14, 2014 with New Kidz Bop Kids
The Kidz Bop 25 CD has some great songs.  My favorites are Roar, Best Song Ever, Clarity, Still Into You…. OK I Like a lot of the music and so do the girls BUT they absolutely love The Fox song – What Does the Fox Say?  I hadn't even heard of the song before they played this CD and now I hear it everywhere.  I'm not really sure what the point of it is but hey they love it.
Once again the Kidz Bop crew has put together another great CD and we are excited to add it to our collection.  My kids seriously listen to this and many other Kidz Bop CD's all the time.  It used to just be in the car but then last Christmas our aunt bought them each their own little boom box.  I wasn't sure they'd ever use them but we have one in the family room and one in a bedroom upstairs and they use them both all the time!!  When their friends are over they have dance parties.  (Oh to be a kid again!)   We have plenty of room for them to dance around in both rooms and they take full advantage of it.  It's so much better than sitting around playing video games!
Kidz Bop 25 will be released on January 14, 2014 where music is sold and online at KidzBop.com and iTunes!

(1) Koupon Karen reader will win Kidz Bop 25 CD!

To enter the giveaway, use the Giveaway Tools widget below. Email and feed subscribers will need to click-through to the site to enter the giveaway.
As a reminder, comments left on Facebook or Twitter will not be included. You must follow the instructions on the widget about the proper way to enter. Of course Facebook is in no way associated with this giveaway!
Disclosure: I received a Free product for review. My opinions are 100% mine.