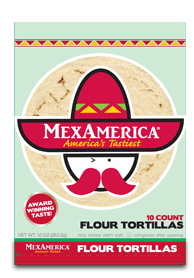 The girls love having a Mexican Dinner night and we do it pretty often too.   However, that said my little one will only eat cheese, nachos and tortillas but we are working on getting her to have more!  But the rest of us love to add so much more than cheese to our tortillas!  We were excited to receive some  corn,  flour and honey whole wheat MexAmerica Tortillas for our review.  Not only to we use these during our Mexican Dinner Night buy my daughter loves having 'sandwiches' in flour tortillas too.
About MexAmerica
Gerry and Sue Riddle founded MexAmerica in 1987 after moving home to Pennsylvania to raise their family. While living out West they gained a love and appreciation for Authentic Southwest Mexican food. Longing for this authenticity in the East, they decided to make their own version of Southwest Mexican Tortillas, thus MexAmerica was founded.
Since the beginning MexAmerica has dedicated itself to manufacture the best tasting and highest quality artisan tortillas, wraps and corn chips. This obsession to produce products of great quality and taste has been recognized by expert panels and consumers alike. MexAmerica enjoys great consumer acceptance and long term customer relationships in its core Northeast US markets.
Today the MexAmerica traditions continue under new ownership. The new owners believe in what has made MexAmerica products great and fundamentally believe by investing in the people and infrastructure, the great reputation of MexAmerica will be preserved as the Company grows its business into existing and new geographic markets.
The Flour Tortillas are made fresh, never frozen, shipped daily to grocers, and are kosher certified. They start with the finest ingredients and MexAmerica's secret formula. The mixture is kneaded and rolled into small dough balls and then pressed flat producing a "perfectly imperfect," soft, and naturally-shaped tortilla. They are baked carefully until done, revealing their distinctive "toast points". They believe this time honored method produces tortillas that are superior to the circular "punched" tortillas produced by many larger companies.
The Corn Tortillas are made from quality stone ground corn, have zero trans-fat and gluten free. Like the flour tortillas, they are made fresh never frozen and shipped daily. They are especially great for traditional Mexican dishes such as tacos or quesadillas. Or, if you are looking for a simple but tasty idea, try MexAmerica corn tortillas with a slice of ham and your favorite cheese. Microwave for about 15 seconds.  Corn tortillas are available in the traditional 6″ size.
The Wraps are all about fresh flavor and variety. They begin with the same high-quality ingredients and process as their award-winning tortillas and infuse them with natural purees (not powders), herbs, and spices. Whether you are making your favorite deli roll-up with the garden spinach & pesto, preparing a gourmet dinner with sun-dried tomato & basil, or snacking at midnight on a soft, delicious garlic & herb wrap right out of the package, MexAmerica's wraps offer you a fresh variety of tasty choices.
We loved the tortillas and wraps we received and my daughter especially loved having ham & cheese roll ups in the honey wraps!  Once we wrapped them up we cut them into discs and she thought it was the coolest lunch ever!  The flour tortillas were awesome with taco meat along with all the fixings and the corn tortillas were awesome as quesadillas and my youngest girls favorite!  She likes just cheese sprinkled with a little taco seasoning in her quesadillas.  I like anything in mine!  We are so different.

(1) Koupon Karen reader will win a variety of MexAmerica's Tortillas and Wraps!

To enter the giveaway, use the rafflecopter widget below. You can now sign in with Facebook and it will remember you each time you enter another rafflecopter giveaway. Of course Facebook is in no way associated with this giveaway, the people of rafflecopter just want to make it easier for you to enter giveaways now.
As a reminder, comments left on this blog post, Facebook or Twitter will not be included.  You must comment within the Rafflecopter Widget below.
Disclosure: I received a Free product for review. My opinions are 100% mine.