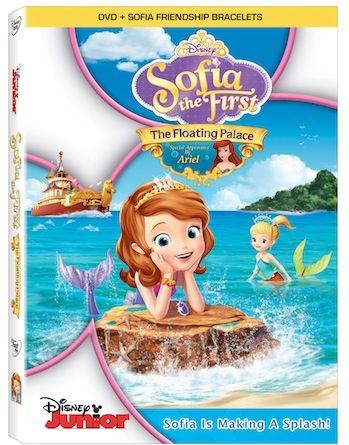 All those Sofia the First fans will be happy to hear that Sofia The First: The Floating Palace Releases on Disney DVD April 8th, 2014!!  My youngest is a HUGE Sofia fan and she's so excited for this.   This underwater adventure also features Sofia's mermaid friends which makes it even more appealing to the little ones.  After all they all love mermaids too, right
Oh… to be 6 years old again!
About Sofia The First: The Floating Palace
Do YOU believe in mermaids? You will – when you set sail on a magical full-length adventure under the sea with Sofia the First! After Sofia helps a young mermaid named Oona, Sofia's amulet grants her the power to transform into a mermaid and visit her new friend's secret underwater kingdom. But when Cedric (disguised as a sea monster) plots to steal Oona's enchanted Mermaid Comb, danger surfaces for both worlds. With a little help from special guest, Princess Ariel, Sofia embarks on an adventure to rescue Oona. Overflowing with oceans of song-filled fun – plus three more exciting episodes – Sofia the First: The Floating Palace proves that when families and friends work together, they can weather any storm and save the day!
In case you don't know, the voices of these characters are done by some great actors and actresses.  You'll hear Ariel Winter (ABC TV's "Modern Family") as Sofia; Sara Ramirez (ABC TVs "Grey's Anatomy") as Queen Miranda; Wayne Brady (TV's "Let's Make A Deal") as Clover; and Tim Gunn (TV's "Project Runway") as Baileywick!!