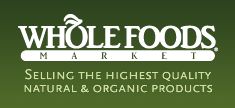 I'm so happy to be adding Whole Foods to our weekly grocery store highlights thanks to Your Green Helper.  Whole Foods sells organic and non-organic products.  It's a great place to get FRESH products, that's for sure!  If you are new to shopping at Whole Foods, I wanted to share a few facts about the store to help you along the way.
Whole Foods has a very high quality of standards when it comes to their products as noted on their website……
Our Quality Standards
To maintain high quality you have to have high standards, and ours are the highest in the industry. We evaluate quality in terms of nutrition, freshness, appearance, and taste. Our search for quality is a never-ending process involving the careful judgment of buyers throughout the company. See our Products FAQ for more information.
We carefully evaluate each and every product we sell.
We feature foods that are free of artificial preservatives, colors, flavors, sweeteners, and hydrogenated fats.
We are passionate about great tasting food and the pleasure of sharing it with others.
We are committed to foods that are fresh, wholesome and safe to eat.
We seek out and promote organically grown foods.
We provide food and nutritional products that support health and well-being.
Prices vary from region to region and store to store so the prices at your local store may not match the prices I post about. Typically, they are comparable in all areas.  Most stores allow coupon stacking, but that may change from store to store. Please check with your local store for their policy.  Whole Foods like to have some sales last longer than one week so some deals may look familiar.
And they offer coupons on their website!  Check out the list of Whole Foods printable coupons.
thanks Your Green Helper for this info!