This deal is back!!
Graveyard Mall.com has a deal of the day every day and today there is a really good one!  10 Pair of Women's Sunglasses for only $9.99 plus shipping!  This is a 'grab' bag sort of deal of designer glasses but for someone who loses or breaks their sunglasses or perhaps if you like to change them all the time, this is the PERFECT deal for you!  ($199.00 Value!)   They will ship on 3/29/10.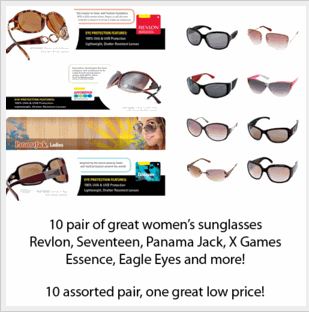 This is DAILY DEAL and only available while supplies last so if you want them buy them now!
How do the deals of the day work at Graveyard Mall.com?
Q. – What is the GraveyardMall.com daily deal?
A. – A new deal available in limited quantities will be posted almost everyday.

Q. – Almost everyday does not qualify as a daily deal though, does it?
A. – Yes, we reserve the right to miss a few days here and there for our own lazy or selfish purposes. Also, we may extend a deal if feel like it.

Q. – Will the item be on sale after the daily deal is over?
A. – We may occasionally offer part of an inventory on an item for the daily deal and keep the rest to sell at our regular discounted price. But no, usually not.

Q. – If I miss out on the initial offer can I email customer service and ask for an extension?
A. – No, we will not be offering the item or special price after it has been removed from the site.
I am waiting for the kids sunglasses deal.  That is one I am sorry I missed.  My kids always lose their sunglasses.  I'm sure it will be back.
Thanks shesaved!