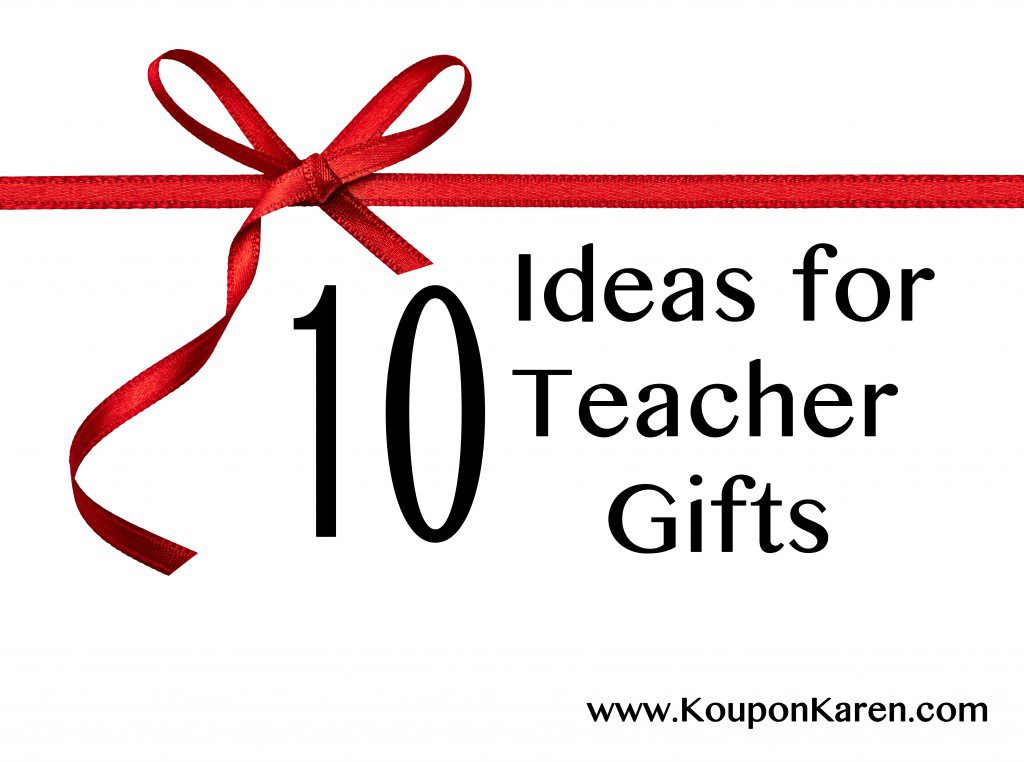 The holidays are coming faster than you may realize and if you have children in school, you may be looking for Ideas for Teacher Gifts.  If you want to stretch your budget as best as you can, the key is to start shopping now and look for the best deals.  It may be a lot cheaper now then as we get closer to the holidays.   But even if you aren't ready to purchase anything, you should be at least gathering ideas!
My girls love to give their teachers gifts.   Teachers are an important part of their day so they deserve it!
Here is a list of 10 Ideas for Teacher Gifts
Gift Certificate
I know I love receiving a gift card for any occasion and I don't know many that don't.  If your child's teacher drinks coffee or tea, a gift card to a coffee shop will be something they'll use for sure.    Most teachers have to purchase a lot for their classroom out of their own pockets so a gift card to a local teacher supply store would probably make them just as happy!  Or perhaps restaurants, department stores, online stores or grocery stores!
School Supplies
At the beginning of the school year, we all tend to send in supplies for the classroom and the teachers are really happy to receive them.  But then half way through the year, those supplies tend to run out.  Why not restock them during the holidays so they don't have to buy them out of their pocket.  Plus you can find all sorts of fun ways of presenting them.  Pinterest has great ideas.  Check out my Teacher Gift Ideas Pinterest board for inspiration.
Personalized Gifts
The best way for your child's teacher to remember them, is with a personalized gift.   There are so many ideas you could do – a photo album of the glass, a mug (but they do get a lot of these), a picture frame, a keepsake paperweight for their desk, a sign for their wall, a book signed by your child.  The list goes on!
Chocolate or Candy
We all have a sweet tooth, including our teachers.  However, just giving them some candy is boring and doesn't look like much.  If you put in a little effort, you can dress up any piece or package of candy to turn it into a fun gift for the teacher.   There are so many ideas on Pinterest but my favorite one is this I'm Thrilled to Pieces Teacher Gift.
Ornament
I like to give Ornaments as gifts to anyone and I also LOVE to receive them.  My husband buys me one every year.  What I like about it is that each year when I decorate the tree, I'm am flooded with memories of where the ornaments came from.  They make ornaments for teachers that you an even personalize so she'll remember where she got it from!
Something for the Home
Even though you may not know how the teacher decorates her home, you could still pick up something for the home.  Some ideas could be a candle holder, vase, wreath, picture or painting or even some pretty place mats.   These items you may even find earlier in the year at a discount!
Books
Elementary School Teachers have their own library within their classrooms.  And lots of times they like to have several copies of the same book so they can do group reading.   The library books they have are usually earned through book order credits, purchased with their own money, or if they are lucky, donated to them.  Books can cost a lot and there are always new books coming out.  Last year my oldest daughter bought her teacher some books to add to her classroom.  She wrote her a note in the front cover so she'd remember who gave them to her.  She loved the gift and I loved giving her something she can add to her classroom.
Scarf
Scarfs are still in and lots of people wear them.  And not just in the winter!  A scarf be worn with almost any outfit and they come in all sorts of styles, colors and patterns.  You are sure to find one that your child's teacher will love.   This is also something you can shop for through out the year and probably get it for a good price.  Keep an eye on Groupon for a great deal!
Gift Baskets
Who doesn't love a gift basket full of goodies?  Whether you fill it with school supplies for the classroom, or treats for the teacher, either way I'm sure she'll love looking through the basket or bag of treasures!
Hand Sanitizer or Hand Cream
A fun gift I like to give friends is some nice smelling hand lotions, body lotions and shower gels.  While those are all great for a teacher too, you could had some fun smelling hand sanitizer to help her out in the classroom.  All those little ones blowing their noses and then touching everything makes for a germ infested room.  Give her a hand to kill the germs and make their hands smell nice while doing it.