I love Avon products.  My mother sold it since I was a little girl and just recently gave it up.  I've used so many of their products and there are some I just won't replace with another even if I could get a better deal.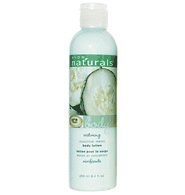 One of my local Rhode Island readers sells Avon and contacted me one day offering my readers a 15% rebate if they purchase through her website.  She also offered to give the first 5 people that register at her website a FREE Naturals Body Lotion from Avon!
If you are one of the first 5 Melanie will contact you before she sends out your FREE gift.
Even if you don't live in Rhode Island you can still order from her website and your order will be shipped directly to you.  From time to time they will even have a coupon code for FREE shipping.
Click here to register or place an Avon order.  The 15% rebate will be given to you after the order is placed.