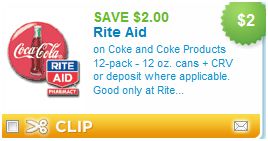 This is a coupon you don't find very often.  You can print a coupon for $2.00 off  Coke 12 pack at Rite Aid.  This week they are on sale for 2/$9.00 and with these coupons you can get 2 for $4.00.
Here's how:
(2) Coke 12 packs, On Sale 2/$9.00
Use $1.00/2 in ad coupon
Use (2) $2.00 printable coupons
Final Cost: $4.00 for 2
You can print 2 coupons per computer.