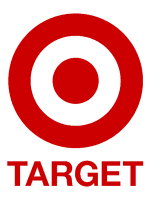 There are 25 more Target Coupons this morning!   These coupons can be stacked with manufacturer coupons and used on sale items to maximize your savings!!!
These coupons all expire 4/30:
$1/2 Kellogg's Special K Crackers, Cereals, Shakes or Bars
.75/2 Skippy Peanut Butter 15 oz+
20% off a Select Fisher-Price infant toy
*Brilliant Basics, Laugh & Learn, Ocean Wonders, Lil' Zoomers, or Go Baby Go!
.50/1 I Can't Believe It's Not Butter 8 oz+
$1/1 Benadryl Adult allergy Relief 20-ct. or larger
$1/1 Tums 60 ct or larger
$1/1 U by Kotex 16 ct+
$1/1 Glad OdorShield with Febreze trash bags 84 ct 13 gal
$1/1 Purex Complete Crystals fabric softener 32 load+
$1.50/2 Wish-Bone salad dressings 7 oz+
$1/2 Hellmann's or Best Foods mayonnaises 9 oz+
$2/1 Energizer AA Smart Charger or Family Charger
$1/2 Bertolli pasta sauces 15 oz+
.50/2 Knorr side dishes
$1.50/2 Breyer's 1.5 qt Ice Creams
$1/2 Suave Men's Hair Care ETS
$1/1 Slim-Fast weight-loss item ESS
$2/1 Allegra Adult 5 ct+ Allergy Relief
$1/1 Allegra Children's Allergy Relief ETS
$2/1 Claritin Adult Allergy Relief 10 ct+
$5/2 Claritin Adult AND Children Allergy Relief ETS
$1/1 Viactiv soft chews 60 or 90 ct
$4/1 Zyrtec Allergy Relief ETS
$1/3 Crystal Light 7 or 10 ct On The Go or 8 qt Canister
$1/1 Reese's Minis or Hershey's Drops 8-oz. Bags
I suggest you print these Target Coupons now just in case you can't before they expire. (Click the link then Shop Now and you'll see Coupon Savings about half way down the page).
thanks Totally Target for this awesome list!!!