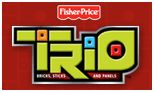 Print a coupon for $5.00 off any one Fisher Price Trio product with a minimum purchase of $10.00.
Have you seen these?  They are pretty cool and I think my girls would like them.  They consist of bricks, sticks and panels and kids can just build and build.   There are 3 different levels according to their age.
The coupon is valid for in-store purchases only.  Coupon expires 10/2009.  You can purchase Fisher Price Trio Sets at Toys R Us.