You may remember me mentioning and tweeting about a trip I took to the CVS/Pharmacy headquarters in Woonsocket Rhode Island. And for those of you that know I live in RI, you know I didn't have to go very far for this trip. I not only enjoyed the time I spent with the wonderful folks at CVS/Pharmacy, from Matter Communications (their PR Company) and my fellow bloggers, but I loved not having to get on a plane for this trip! As much as I enjoy the quiet time that I get on a plane, it gets old after a while.
I spent two and a half days with CVS/Pharmacy and not only did I have a great time, but I learned a lot! Before my trip I shared with you the NEW myWeekly Ad from CVS. If you missed that post and aren't familiar with it, read my post because it's a great new feature they have on their website. And I shared lots of screen shots to show you around the feature. While in Woonsocket they went over the myWeekly Ad with us in more depth and showed me a few things I missed the first time through. One thing I thought was very helpful and important that I didn't notice the first time through is how they color code the groups of weekly ExtraBucks deals for you within the myWeekly Ad, to make them easier to spot. What I mean by this is if you earn ExtraBucks on a group of items, like certain P&G products, each one will be color coded the same color so you know they are part of that group.
See in the example below…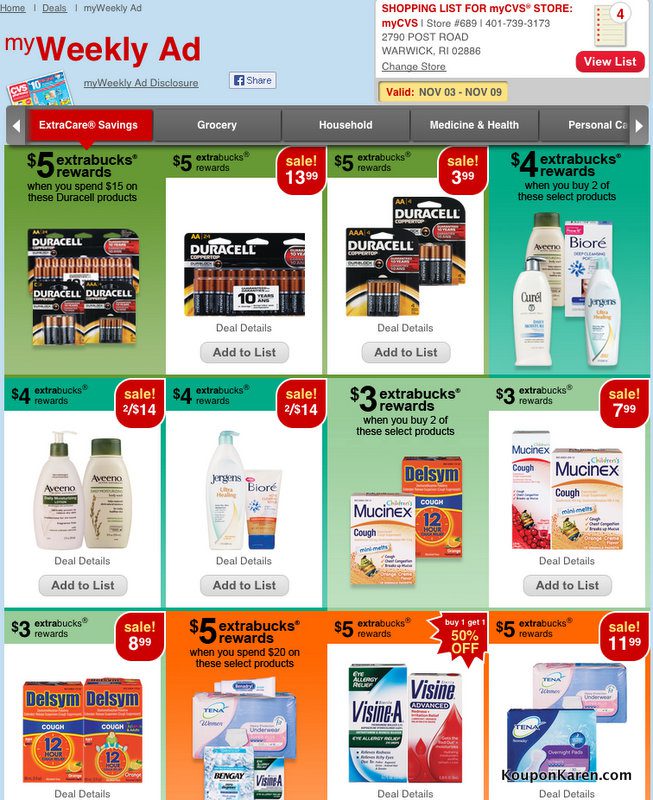 This week you'll earn $5 Extrabucks when you spend $15 on select Duracell products. The two products that are part of this deal are in the same shade of green so you know they go together. You'll also get $4 ExtraBucks when you purchase 2 select Aveeno, Biore, Jergens or Curel products. The Aveeno, Jergens and Biore products that are on sale are also the same shade of green ( a different one from the Duracell) to show you they are part of the same deal.
In this image I found these items by clicking the ExtraCare Savings tab above but if you were looking at the "Household" tab, you will also see the color coded groups as well. Look at the image below and you'll see the Duracell items are still the same color green as in the image above. So no matter where you see the items in you myWeekly Ad, if they are part of a group of ExtraBucks deals, they will be color coded by group.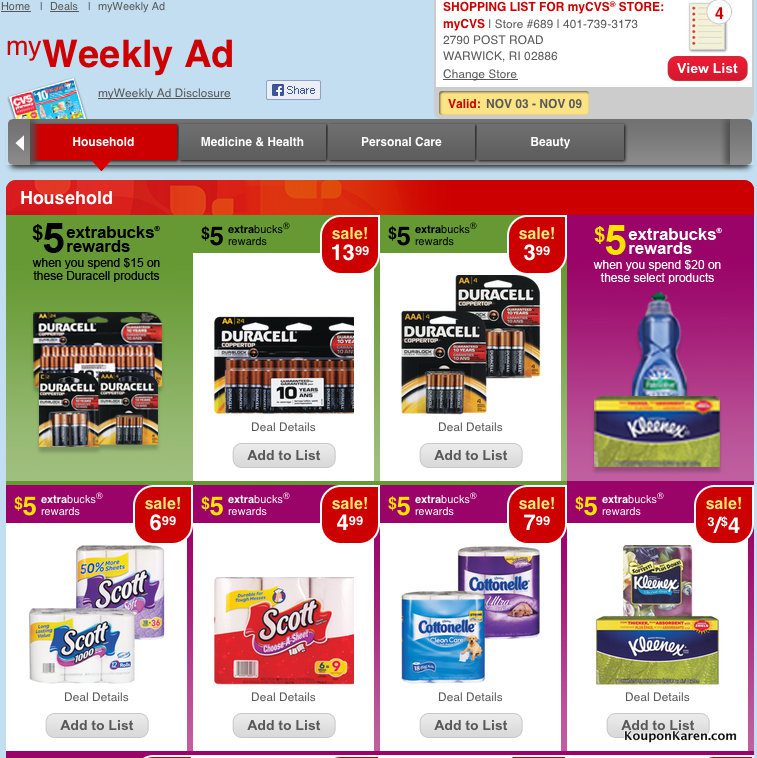 I love this feature because it shows me exactly what I can purchase to receive my extra bucks. I had previously noticed the colors in the program but had no idea what they meant until I asked while at the CVS Blogger Event.
We also were able to sample some of their new snack products in the Gold Emblem line.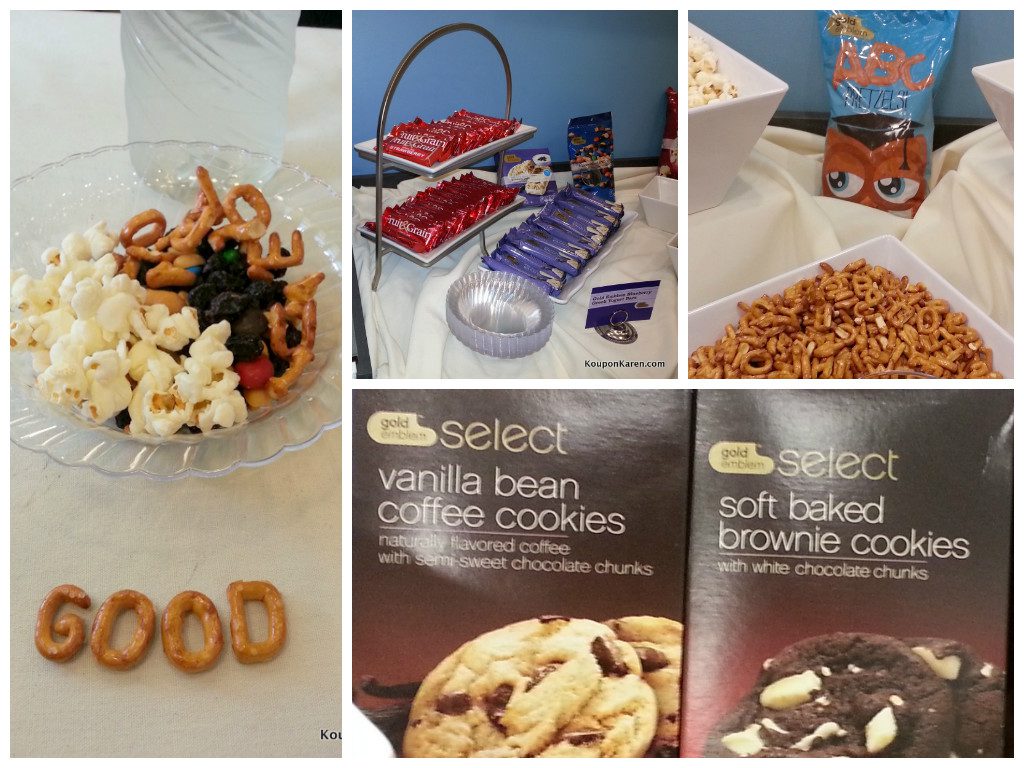 I loved the ABC Pretzels and my kids would love them too! And the Vanilla Bean Coffee Cookies are amazingly delicious! I didn't try any at the event but they sent me home with the box and we all enjoyed them.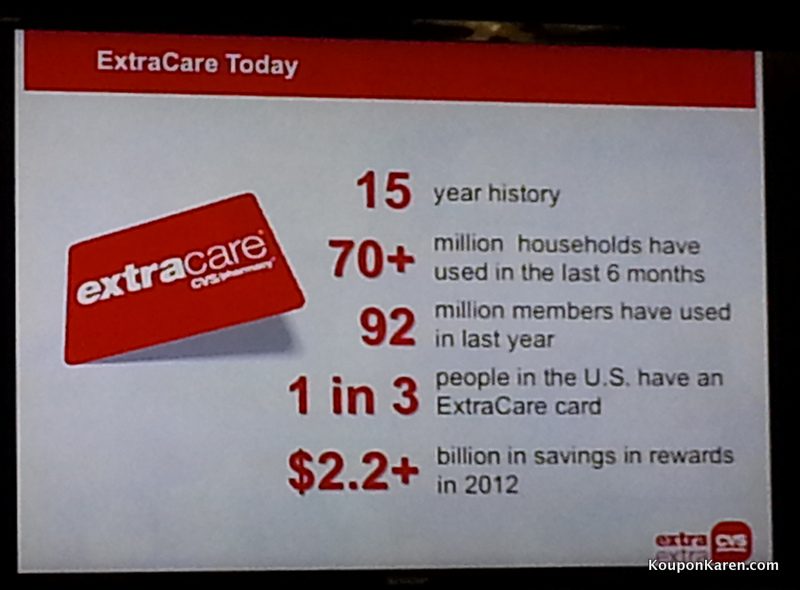 These facts pictured above are amazing! There are over 70 million households that used their ExtraCare card just in the last 6 months and over 92 million members have used it in the last year. Those are amazing numbers! I knew that CVS/Pharmacy had the best rewards program out there and these numbers how it. I'm part of that number and always will be.
This is the 3rd year I've attended the CVS/Pharmacy blogger event and they always try to do something fun for us, besides the great dinners. This year we were able to pick from a beauty treatment using the Selma Hayak Nuance products. I use a lot of the Nuance products already and was excited to try a few new things. Salma has a HUGE line that is exclusive to CVS/Pharmacy. This picture is just a small part of her products…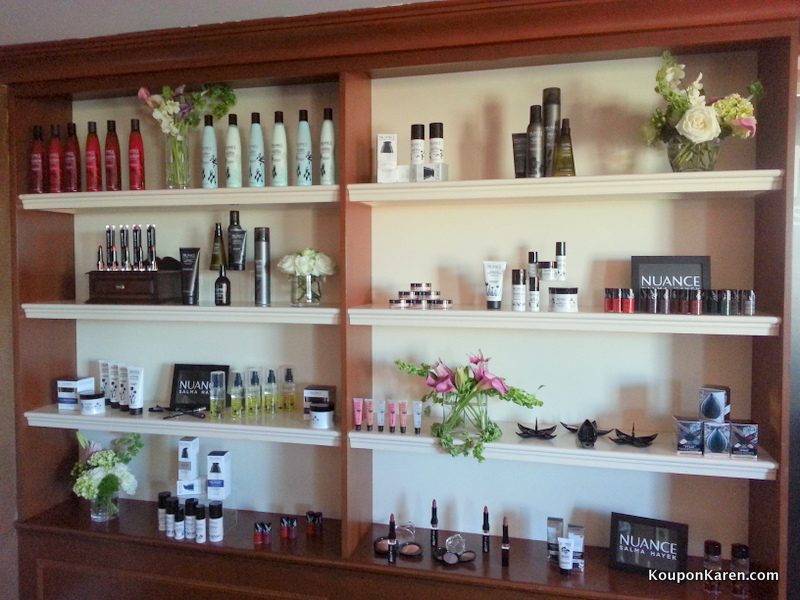 I choose to have my makeup done. I love having someone else do my makeup. I mostly wear eye makeup but it's fun to learn some new techniques. They had a lot of her products ready to use for the makeup session…..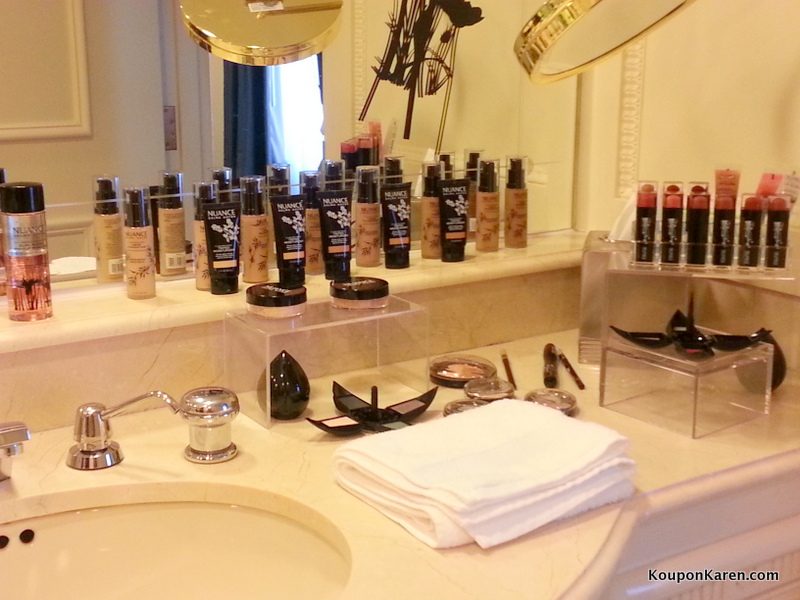 Here I am getting my makeup applied…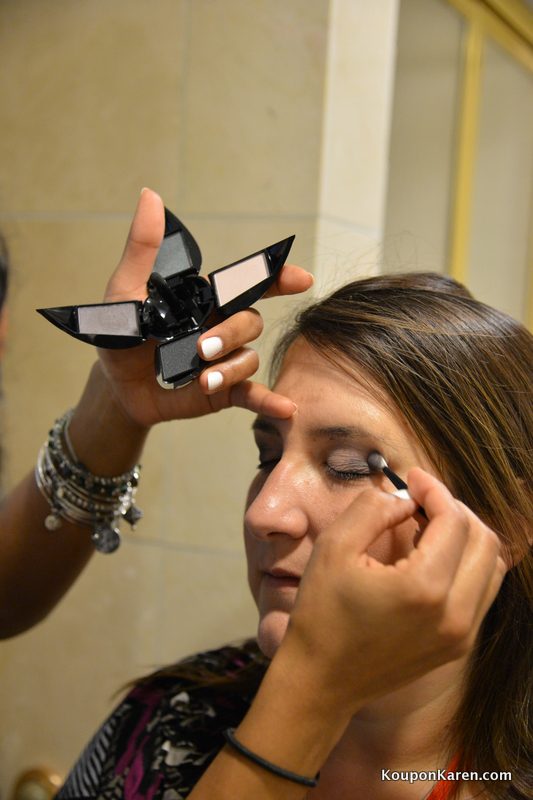 and after..

My glasses hide the eye make up in this picture but she did a great job! Then we headed to dinner in downtown providence for a preview of some of their new fragrances from the Beauty of Essences line. They always bring us to some of the best restaurants that Providence has to offer and it's always fun. Another fun part of events like this is being able to hang out with some of my blogging friends. Here I am enjoying dinner with Briana from Bargain Briana and Marcy from Stretching a Buck.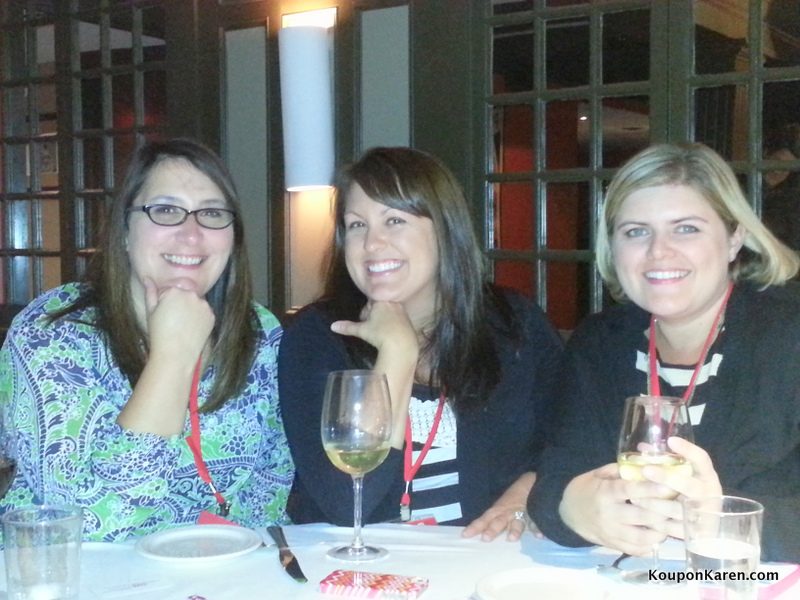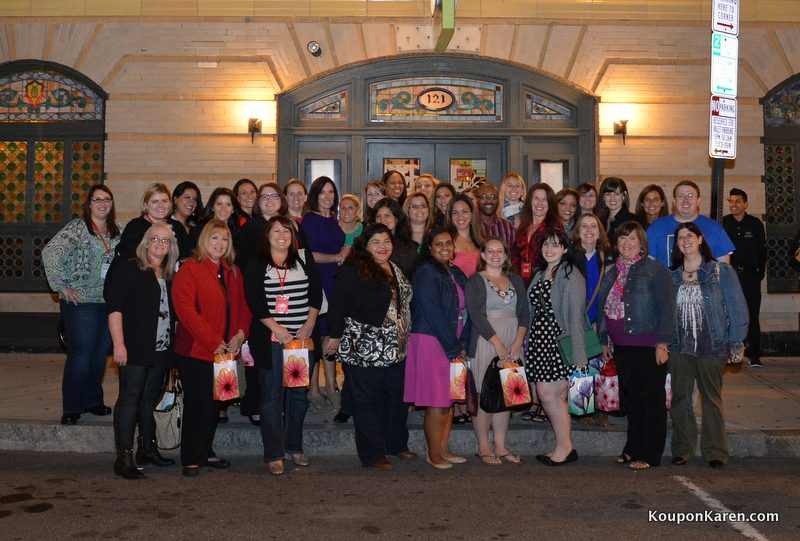 And we took a group picture after dinner.
The next day we had Christmas in September and had the chance to preview their new products for the holidays which you can now find in stores! They have so many great products not only to decorate your home, but for gifts as well. I will be sharing more of that as we get closer to the holidays but here are some pictures from our Christmas in September…
We had a fun Yankee Swap and I ended up with this awesome Snowman who plays lots of holiday music. My girls were so excited when I came home with this. It's been sitting in my living room since that day, even though we haven't decorated for Christmas yet! And you can grab one for only $19.99 in stores! Such a great price for a fun decoration.
Before we ended our day we saw a sneak peek at some new Beauty products you can find at CVS/Pharmacy. I'm excited to try a lot of these since they sent us home with everything they shared with us. I love having the opportunity to try new things I may not have picked up in the store.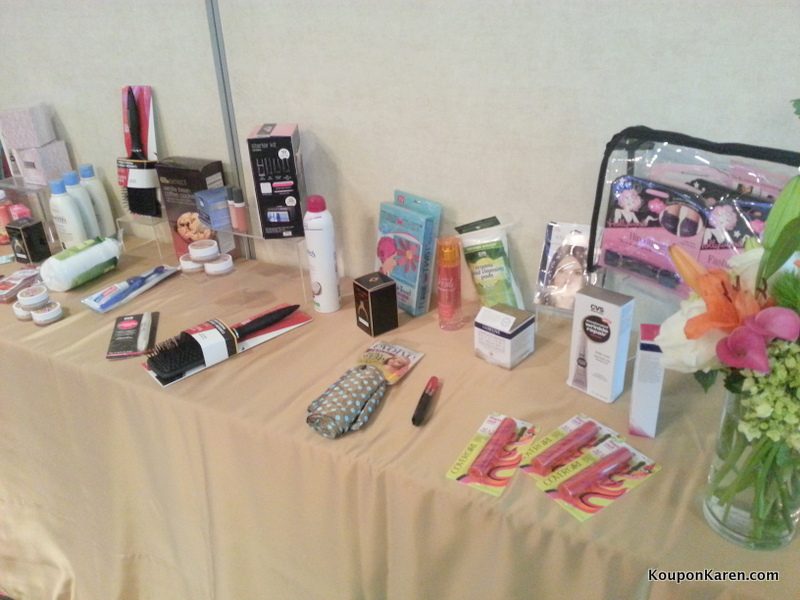 I had a great time during the 2 days there and I learned so much about this awesome company that I'm happy to say resides in my home state. They are not only great to their consumers, but they sure do know how to treat bloggers. I look forward to working with them more during the holiday season sharing some of their products with my readers and I'm excited to see what they have in store for us for 2014. They definitely have the best savings programs as far as I'm concerned and they keep making it better.
Disclosure: CVS/pharmacy provided me with an all expenses paid trip to spend a few days with them in Woonsocket, RI. I choose to share my experience with you and CVS/pharmacy has not influenced me in doing so. My words are 100% my own.