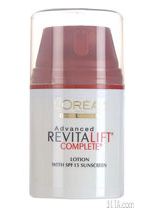 I recently discovered Ulta.com.  They sell beauty products and you can find some pretty good deals if you look for them.  I was browsing through the Special Offers: Sale Items, Clearance and Free Gifts
and found the Advanced Revitalift Complete Day Lotion on sale for Buy 2 Get 1 FREE.  While doing further research I found a coupon for $10 off a $60 purchase and everything over $50.00 is FREE shipping.  Add all these deals together and you can get the Advanced Revitalift Complete Day Lotion for only $8.99 each when you buy 6.
Here's how it works:
Add 6 Advanced RevitaLift Complete Day Lotion SPF 15 to your cart.  They are B2G1 FREE and it will automatically deduct the price of 2 once in your shopping cart.
Your total will be $63.96.
Add Coupon Code 58986 to receive $10 off a $60 purchase.
Your new total will be $52.99
Final Cost: $8.99 each!
These sell for $16.99 at CVS and currently CVS.com has them on sale for $13.69 each so this is still a better deal.  You'll save $49.95 off the regular price.   That's a savings of almost 50%!!!
Don't forget to add 3 FREE Samples to your cart as well.  Each time you shop at Ulta.com you can choose 3 FREE Samples!  And they also have a Rewards Club and every time you spend $50 you'll receive a FREE gift.  So be sure to join the Rewards Club before you place your order because this will qualify you for a FREE Gift!
******* It looks like almost all of the L'Oreal products are Buy 2 Get 1 Free!!