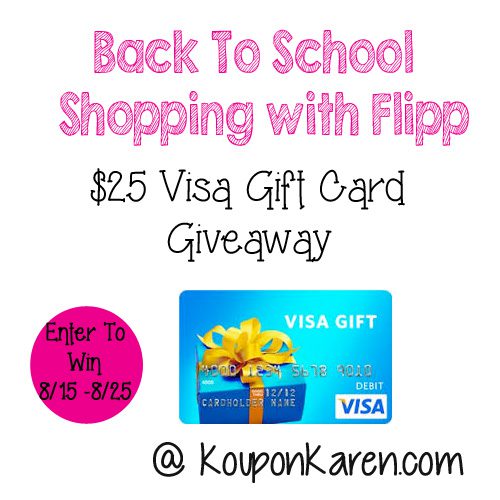 This post is Sponsored by Flipp but my opinions are 100% my own!
Do you feel like me that there really isn't enough time in the day to get things done?  But yet if there was more time in the day then it would be just do darn long?   That is me like every single day!!   One thing I've come to love is apps that help me save time.  (Now if they could just do all the work for me that would be better). But for now I'll take the extra time I have after using them.  Flipp is one of my favorite apps which not only helps me save time, but money too!
This is my week for back to school shopping and getting all the supplies for the girls.  I like to pick up extra stuff so I have it on hand for when they need it later in the year.  All the sales are happening now so I'd rather spend a little extra and stock up then pay full price later on!
Since I'm always looking for the best deal, I shop a few different stores for everything we need.  I try to take into consideration the gas money I'm spending so I don't go too far out of my way for what may be a better deal.  I also use the Flipp app, which is super handy and saves me time in my back to school shopping.   The app saves time because the ads are all in one spot and on my phone.   My phone is one of the things I always have with me and I use it for so much.
Back To School Shopping with the Flipp App
This app does so much so you really need to spend time looking through it and find the function that work for you.   And depending on where I'm shopping, I use it differently.   I found it very helpful in doing my back to school shopping because I could quickly and easily compare the items and find the best place to get the best price.
The Flipp app allows me to search for the stores that are closest to me and I can see the entire ad as it would look if I had it right in front of me.  The format is the same way as the paper ad.  I can flip through the pages on my phone and quickly scan what we need.  Plus they even have some preview ads so I can make sure the deal won't be better the next week.
I shop at CVS, Staples, Walmart and Target for most of my back to school shopping.  I pulled up those ads on the Flipp app by using the search option at the top right hand corner of the app.   This allows me to pull it up quickly rather than sliding down the page to find it.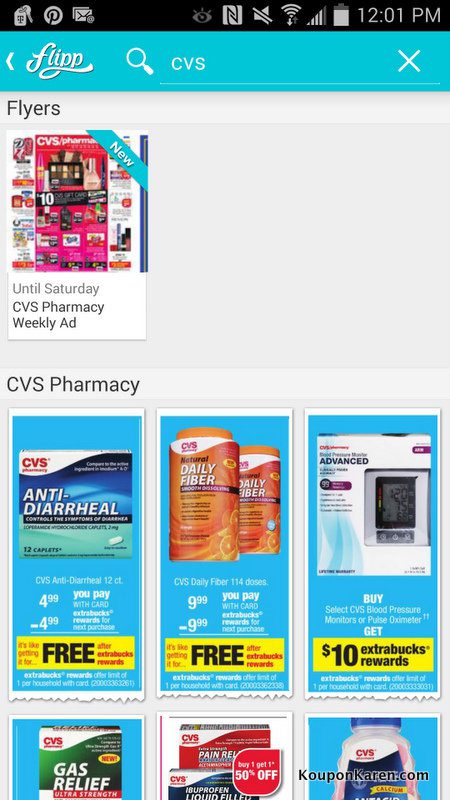 You can then touch the add on top and flip through it.  You can also see a peek of some of their best deals of the week.
Here is what I found at CVS this week:
folders and notebooks for $.77 each
2 pk sharpies for $.99 each
12 ct #2 pencils for $1.99 each
Expo Markers 4 pk for $2.99 (these are for their teachers)
Kleenex 3/$2.50
Next I pull up the Staples app to see what they have.  They always have great deals but they limit them so I may not be able to find everything I need there.
Once again, I can touch the ad on the top left corner and flip through it or scroll down to see some of their best deals.
Here is what I found at Staples and it looks like a few things are cheaper here than at CVS.
12 ct #2 pencils for $.68 each
School glue (4 oz) for $.38 each
1 subject notebooks for $.17 each
Erasers 12 pk for $.96 each
Wood rulers for $.25 each
Pencil sharpener for $.68 each
4 pk Glue Sticks for $1.25 each
Sharpie 5 pk for $3.00, get $3.00 rebate so FREE!
Next I pull up the Target ad.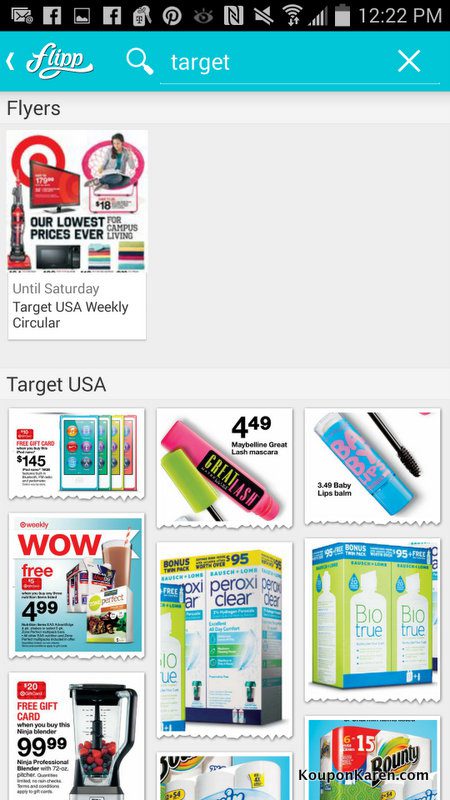 Here is what I found at Target.
Pencil case $.99 each
Crayola Washable markers for $1.99 each
That's all I found at Target, however I know they have more deals in the store, they just aren't listed on in the ad.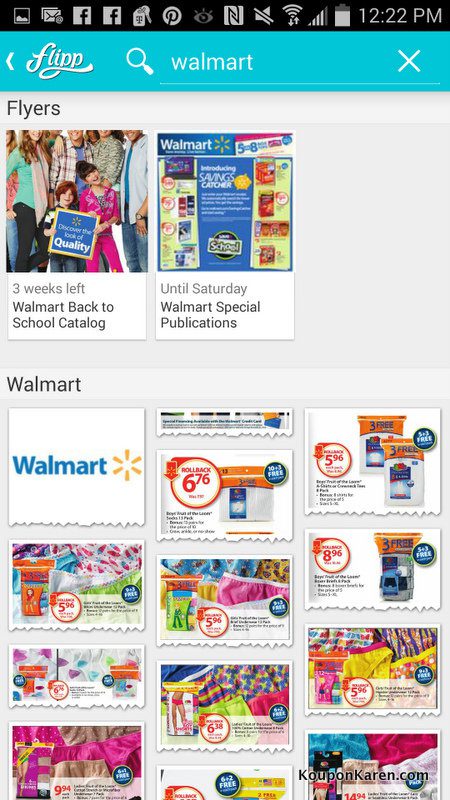 Finally I pull up the Walmart ad on Flip and like Target, I know they won't have all the deals listed but here is what I did find.
Here is what I found at Walmart:
Pocket Folders for $.15 each
Notebooks for $.25 each
Cra-Z-Art markers for $.77 each
Since CVS is at the end of my street I'll definitely be going there.  Target and Walmart are right next to each other,  but I may skip Target and just go to Walmart because I can get the other items probably at Walmart or Staples for close to the same price.  And I will go to Staples because they have the best deals on most items.
It took me about 15 minutes to search through the Flipp app and make my list which is pretty good.  Can you see how this can be helpful in your school shopping?
The ads are all in one place on your phone or tablet
You search for a specific store to locate it immediately
You can scan the ad quickly by swiping your finger across the screen
You can easily compare ads and make your shopping list in no time.
The app is free and you can download it from iTunes or Google Play store.
There is a Flipp Back To School Twitter party is next Tuesday night (8/19/14) at 9pm ET.  Try and stop by and tweet with me about Back To School shopping.  Of course there will be prizes!   To learn more about the Twitter party follow the links below:
http://momitforward.com/flipp-app-tuesday-gno-twitter-party
http://momitforward.com/flipp-win-a-500-visa-gift-card
And look below for a giveaway here too!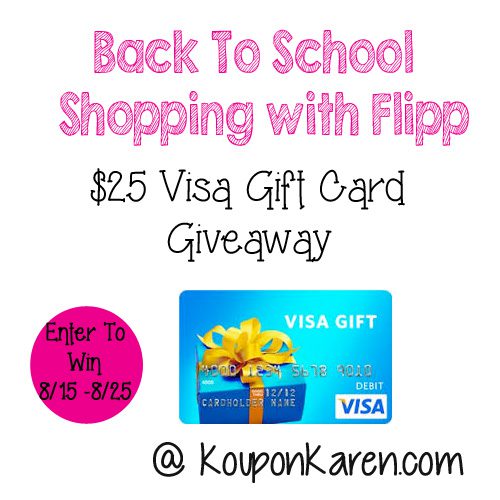 (1) Koupon Karen reader will win a $25 Visa Gift Card to help you with your Back To School shopping and a Flipp branded portable charger.

To enter the giveaway, use the Giveaway Tools widget below. Email and feed subscribers will need to click-through to the site to enter the giveaway.
As a reminder, comments left on Facebook or Twitter will not be included. You must follow the instructions on the widget about the proper way to enter. Of course Facebook is in no way associated with this giveaway!
If you are looking for more giveaways, be sure to follow my Fun Giveaways Pinterest board!
Disclosure: I received a Free product for review. My opinions are 100% mine.