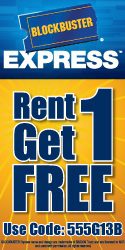 From now until 3/31/10, when you rent one movie at Blockbuster Express you can get one FREE with the coupon code 555G13B. I wish I had one of these near me. At least I don't think I do, I'm going to need to check because there are a few movies I'd like to see.
No membership required and it's only $1.00 a night!  So two movies for $1.00, not a bad deal at all.  But if you keep it any longer, you'll have to pay for the extra night.
Offer expires 3/31/10.  To find a location near you, visit Blockbuster Express.com.