Black Friday is coming quickly and as you know they have a lot of great deals to help stretch your dollars when holiday shopping.  I always score some really good deals even if I do have to get up early to get them.  It's worth it for me!   If you like to shop the Black Friday deals then you probably also want to have your hands on the ads beforehand to see what is going to be on sale.
Besides getting the ads on Thanksgiving Day in your newspaper, or finding them online, you can now access them through an app called Retale for FREE!  Just head to the iTunes App store or Google Play and search for Retale to download the app.  Once you do that you will have all the current ads right at your fingertips on your phone, iPad or tablet.    The app will even list the ads in order of how close they are to you which will help in planning our shopping trip.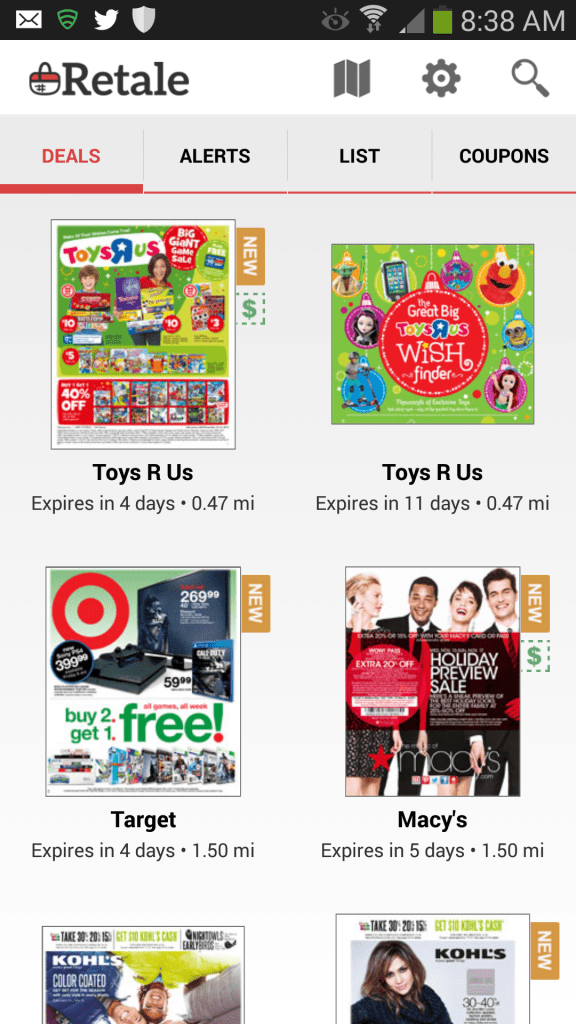 If you download it today, you'll get this week's ads and then as soon as they end and the new ones are active, then those will be available to browse.    This doesn't connect you to the store website or even make you download the ads, you actually view them the same way you would if they were paper ads, and you can turn the pages and browse the entire ad.
These are the features I like most about the app:
If there are coupons in the ad, it will tell you when you view the ad and you can clip them.  If your store allows, you can just pull up the coupon and they can scan it from your phone.  Not all stores will allow this so check with them.
Click the location bottom and get the exact address of the store along with their store hours and phone number.  It'll also tell you right away if it's open or closed!
You can make a shopping list and receive alerts to remind you of the items you want to purchase and when new ads are available.
The app is available for free on all iPhone, iPad and Android devices and the online version can be found at http://www.retale.com/.  This will be extremely helpful in planning your Black Friday shopping and through out the holiday season!