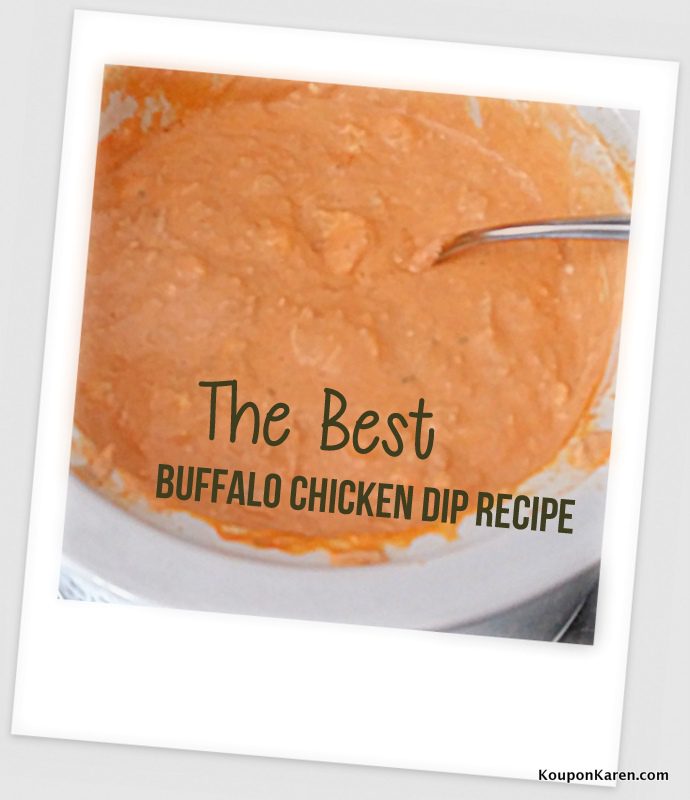 If you love Buffalo dip as much as my friends and I do, then you have to make this simple Buffalo Chicken Dip recipe.  You can make it as spicy or as mild as you want, either way it's great.  And it takes only seconds to put together.  I try to keep all of these ingredients on hand so I can make this anytime.  Plus I use my mini crock pot to make it so I don't have to heat my oven, and I can keep it warm in the crock pot too!
I prefer to use Frank's Red Hot Buffalo sauce but you can use any kind that you want.  You can also use whatever cheeses you choose as well.  This recipe is on the bottle of Frank's Red Hot sauce.  I've changed it up a little to fit our likes.
Buffalo Chicken Dip Recipe
In a small crock pot or in an oven dish combine the following ingredients in any order:
1 brick of neufchatel low fat cream cheese (or regular if you prefer)
1/2 cup hot sauce
1/2 cup light blue cheese dressing
1/2 cup shredded Mexican cheese
2 cups shredded chicken (about 2 cans of chicken)
Cook it in your mini crock pot for about 2-3 hours on low or if you are in a pinch for time on high for about 1 1/2 hours.  Then keep it keep it on warm when you are ready to serve it.  If you are putting it in the oven you'll want to bake it in a 350 oven for about 20-30 minutes.  When it starts to bubble then it's done!
I love dipping Tostido's Scoops, Bagel Chips, Wheat Thins and Ritz Crackers in this delicious Buffalo Chicken Dip.  But you can use whatever you prefer.
A few tips for making this dip :
I like to use neufchatel low fat cream cheese and you really can't tell the difference.   If you don't like blue cheese dressing you can use ranch in place of it.  I've done it both ways and I prefer the blue cheese.   However, I don't like chunks of blue cheese in it so I use whatever shredded cheese we have on hand, usually it's a Mexican mix without any seasonings.  If you want your dip extra spicy, add 3/4 cups of hot sauce, if you want it more mild, add 1/4 cup of the hot sauce.  For the chicken I do several things depending on what I have in the house.  I like to keep cans of HORMEL Chicken Breast in the house but if I don't have that and I have some frozen chicken breasts, I boil 2 of them and then cut it up.  If we have leftover chicken but not enough for a meal, I'll toss it in a freezer bag for when I make this dip too.  I have even used breaded chicken that was leftover from dinner!
And of course I have a coupon for you!  It's the beginning of the month which means a lot of NEW coupons! Check out these new Hormel coupons including one for Hormel Chicken Breast to make some Buffalo Chicken Dip …
$1.00 off any two HORMEL Bacon Toppings products
$3.00 off one HORMEL Party Tray product
$1.00 off 2 HORMEL Chicken Breast products
$0.55 off any two HORMEL Chili products
$1.00 off 2 HORMEL Pepperoni packages
$1.00 off 1 HORMEL Refrigerated Entree
$1.00 off 2 HORMEL REV Wraps
$0.50 off HORMEL NATURAL CHOICE meat
If you can't find this in your zip code click HERE and try zip code 02886.
NEED MORE COUPONS?
Be sure to check the Coupon Database before you head out shopping. You can also print coupons from Coupons.com, SmartSource, Savings.com and Redplum.com. And don't forget to check out the Printable Coupon Alerts for other coupons I've found!
Please note: Printable coupons have a print limit. Once that limit is met the coupon will no longer be available.