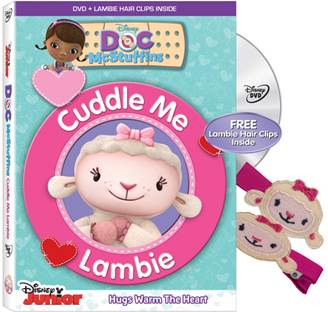 Yeah!!  For all your Doc McStuffins fans, I'm excited to tell you that releasing on Disney DVD Tuesday, February 3, 2015 is Doc McStuffins: Cuddle Me Lambie.  My oldest daugher loves lambs so Lambie is her favorite Doc McStuffins charactor.  Shhh!  Don't tell her friends because she's 10 and still a Doc McStuffins fan!
This DVD includes 5 Episodes Plus a FREE Exclusive Lambie Hair Clips inside!  I have a feeling they are going to fight over this one!
About Doc McStuffins: Cuddle Me Lambie
No one gives better cuddles than Doc's warm and fuzzy best friend!  She's a princess and a ballerina, and she's always there for toys that need an extra helping of tender loving care.  Just say three little words: "Cuddle Me Lambie."
Join Doc and the whole gang as they laugh, play and have a ball fixing boo-boos and discovering great ways to stay happy and healthy.  Celebrate the power of true friendship as new, sparkly heart toy Val shows Lambie there's plenty of love to go around.  Meet Donny and Alma's monster creation Charlie – who turns out to be very sweet and not scary after all.  Then, see how Lambie gets out of a super-sticky jam!  Bursting with five song-filled episodes and cuddles galore, this "hug-stravaganza" is magical fun your little one will adore!
Cast:
Kiara Muhammad (as Doc McStuffins,)
Loretta Devine (as Hallie)
Lara Jill Miller (as Lambie)
Robbie Rist (as Stuffy)
Jess Harnell (as Chilly)
Jaden Betts (as Donny McStuffins)
Kimberly Brooks (as Mom McStuffins )
Gary Anthony Williams (as Dad McStuffins).
Help Lambie Get Over Her Broken Heart and Realize That There is Enough Love to Go Around to Everyone!