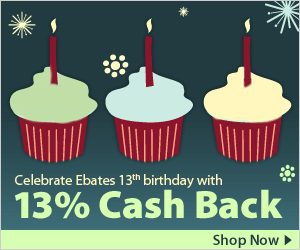 Because I truly believe that you can and should save money on every purchase you make, I want to tell you about this great way to save money online this week!   Ebates is 13 years old this week and to celebrate it they are giving you 13% cash back at over 100 stores!  That's a great opportunity to save some extra money while shopping online.  How it works is you receive 13% cash back from Ebates on top of what you already save at the store!
Here are some of the stores participating…..
The Gap
Kohls
Macys
Nordstrom
Magazines.com
and more…
As I find great deals at these stores, I'll share them with you.  But in the meantime head on over to Ebates and see where else you can save!
If you haven't joined Ebates, now is a good time to do it, especially if you shop online a LOT. And when you join, you'll receive a FREE $10 Gift Card from one of these stores…
Barnes & Noble
Target
Home Depot
Magazines.com
It's FREE To join and once you are a member of Ebates, you'll receive Cash Back when you shop online. The key to earning your cash back is that you have to shop through their website. So before you make your purchase, check the Ebates website to see what their cash back rate is and also if they have any coupons that you can use on your purchase. Then click through to the store and make your purchase. The cash back will be in your account in about 30 days. It's that simple!
The $10 Gift Card will be sent to you after your first $25 purchase.