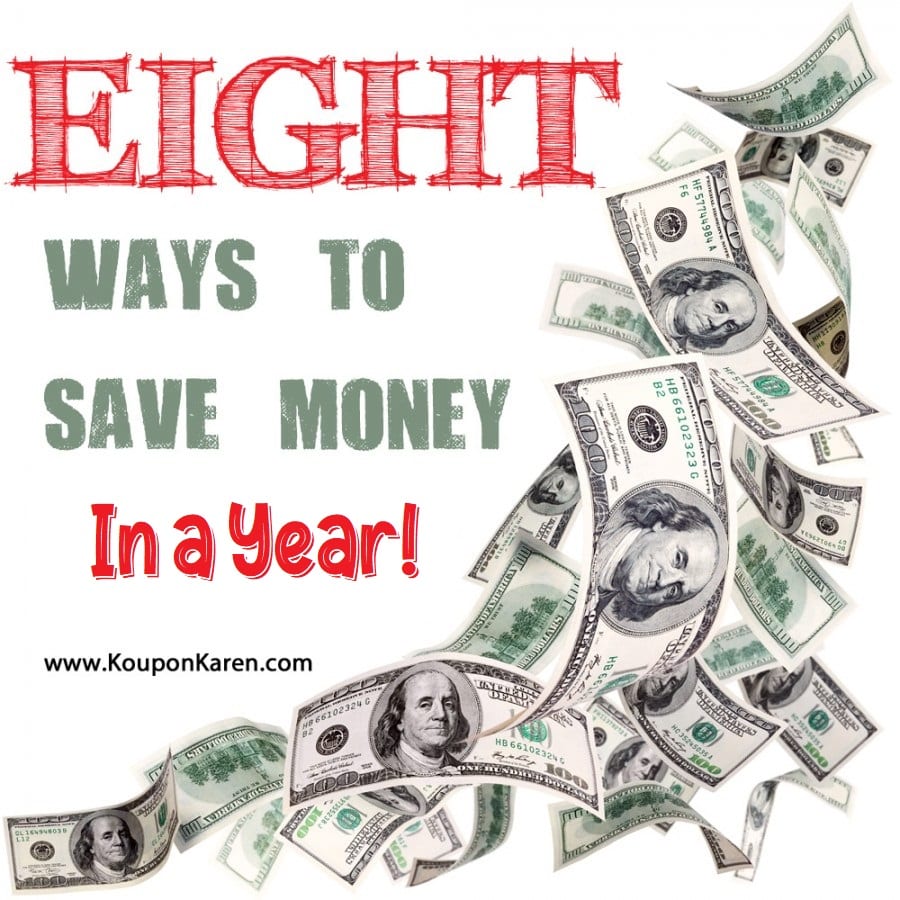 It's a new year and a new start to get into a better financial state.  Each year you work towards your goal, the closer you'll get.  Being debt-free is a nice feeling and with a little work and organization along with a lot of determination, you can be debt-free too!  Here are some ways to save money in 2015 that I wanted to share with you.
Eight Ways to Save Money in A Year
Use Coupons & Sign up for Rewards Programs
Believe it or not,  I don't see a lot of people using coupons at the grocery store.  Even after the last few years where more and more people are talking about using coupons to cut the costs of groceries, I still see a lot of people who DO NOT use them!  It's crazy not to because it's just like cash.  Coupons work the same way as cash does!  I challenge you to look through the Sunday paper or even your favorite magazine and cut out a few coupons for products you use and see how fast the savings add up.  Trust me, it really is a great way to keep more money in your wallet!
Pack Your Lunch Every Day
Brown bagging your lunch is a sure way to save money every single week.  If you work outside the home,  you are probably ordering out for or going out for lunch at least once a week if not more.  I know I did it a lot when I was working in an office.  But if you bring your lunch from home you'll probably save at least $6 a day (if ordering out, more if you are actually going into the restaurant).  That money will add up over the entire year.  Plus you'll be wasting less food because chances are you have food in your fridge right now you could have taken to work, but instead will toss in the trash by the end of the week.
Call Your Utility Companies
If you have cable, cell phone, and a landline, chances are if you call them and ask them to give you a deal, they probably will.  Especially if you can easily take your business elsewhere.  If you get them to cut your bills by even $30 a month, you'll save $360 a year!
Weekly Savings Account (52 Week Challenge)
One way that you can easily save money in a year, is if you pay yourself every week.    What does that mean?  You can add another "bill" to your budget labeled as weekly savings and put that money in a savings account.  You can use something like my 52-week money saving challenge.   Each week it's a different amount or set up an automatic transfer each time you get paid for money to go into a separate account.    Even just saving $5 a week will give you $260 a year.  If you double that it'll be $520.  It adds up quickly.
Round-Up and Put in your Savings Account
If you just can't do a weekly savings account, how about rounding up whenever you buy something or pay a bill, and put the rounded up money into a savings account.  Depending on how strict you are in your checkbook, you could just round up when subtracting out and leave the money there.  You won't see it so you won't really know how much is there.  Then it's like surprise money.  At the end of the month, when you balance your checkbook, you can move over that surprise money into a savings account.  Add all your loose change to it as well and you can build it up faster.  This may be a slower way to save money BUT if you do more than one thing on this list, it'll add up quickly!
Drink only Water for the Entire Year
Challenge yourself to stop drinking soda, lemonade, iced tea, iced coffee, and even wine and just drink water for the entire year (minus coffee because I couldn't go without my coffee – but make that at home!).  If you are a big soda drinker, not only will your waistline thank you, but your bank account will do.   Using soda as an example, if you buy 4 two-liter bottles of soda a week at about $1.50 a bottle, you'll save $312 a year by switching to water.  And you'll probably… no, you will definitely lose weight too!  Water is so much better for your body and your wallet and another easy way to save money in a year!
Look into Lower Interest Rates for your Home
If you own a home, there is a good chance you can lower your interest rate.  Call around to all the local banks in your area and see what their interest rates are for refinancing your home.  Even if it's only a small difference, depending on how long your mortgage is, you may be able to save a lot of money in the long run.  It will cost money to get an appraisal, but you can easily recoup that money after a few months of saving.  If you are paying PMI on your mortgage, you also may be able to get rid of that cost.  You'll need to pay for an appraisal but if it works,  it'll probably cost you about 1-2 months of PMI for the appraisal, and then the cost will be gone for good!
Save on Prescriptions with the Rx Savings App
If you have a smartphone then you probably use apps every day.  There are a lot of great money savings apps including a great Rx Savings App.  If you ever had been prescribed a prescription,  you know how expensive it can be.  And there isn't much you can do about it if you need to take it.   LowestMed is a free Rx discount app and program. It doesn't require a membership or fee to use.   You can potentially save anywhere from 10-85% off retail prices.
It's super easy to use.  Once you download the app, search for the prescription by name.  Then you'll see a list of pharmacies near you along with the cost of the prescription with the lowest one being on top.  (As long as you have the "use my location" turned on,  it'll find local stores).  You can tell it to search within so many miles of you.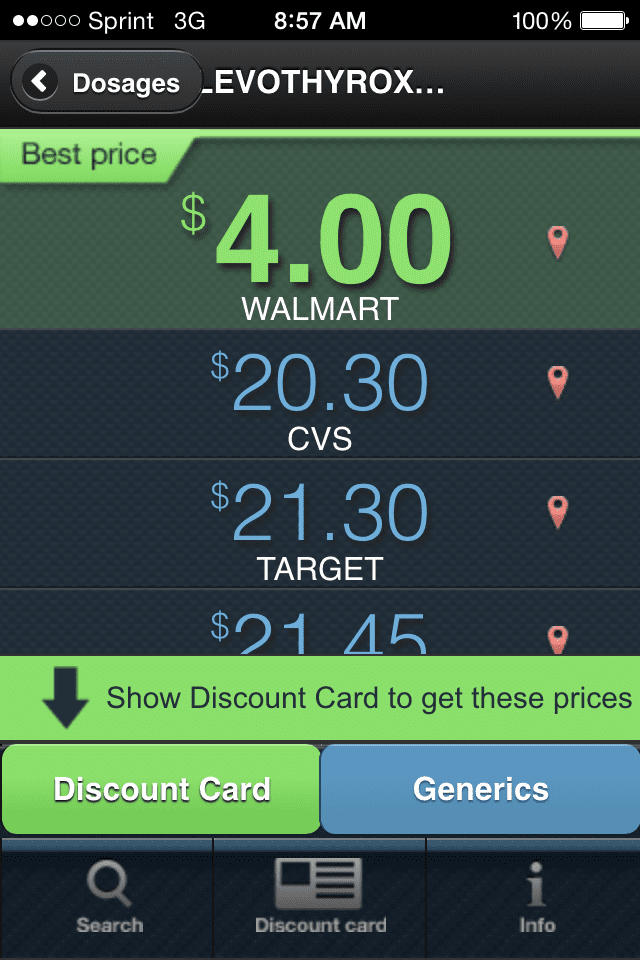 You can even search for the generic brand if you want to save even more.    If you take just one prescription drug a month and find significant savings, imagine if you have to take more later on in the year.  The savings can really add up without any effort on your part other than searching on the app.  Healthcare costs are high enough so if you can save on prescriptions with the LowestMed app by finding the store that has the best price, it could be a huge help.
These ideas may not fit everyone's lifestyle but utilizing some of these ways to save in 2015 could help save you an extra $1000 a year or more!  Think about what you could do with that savings and challenge yourself to at least try.
Do you have any other ideas for Ways to Save Money in a year?
Check out more ways you can save money!
This post is Sponsored by LowestMed but my opinions are 100% my own!