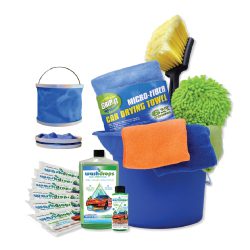 Disclosure: This is a sponsored post and I was contacted by Washdrops to share this information with you. All opinions are my own and were not influenced by another person in any way.
Earth Day is just around the corner.  It also happens to be the same day as my husband birthday!  My kids think that is pretty cool.   They have been hearing about Earth Day since they understood what it was and believe it or not, they totally get it!  They understand that we need to take care of our environment and are huge into recycling and upcyclying (maybe a bit too much that they want to keep and reuse way too many things!).
I love companies that get it the way my kids do and Washdrops is one of them!  So in honor of Earth Day, Washdrops is hosting a contest on their Facebook page! Entrants can share their green resolutions for 2014 and when they do, they be entered to win a Washdrops Prize Pack valued at $50.   They will randomly choosing 10 winners.  You can read more about the contest on the Washdrops Facebook page.
Did you know that the average consumer can use more than 80 gallons of water when washing their car?  And all that runoff flows into storm drains and pollutes nearby lakes, rivers or reservoirs with contaminants. Using Washdrops® requires just one bucket of water to wash any average size vehicle, and at approximately 70 cents per wash, costs much less than a commercial car wash. Washdrops® requires no hose or rinsing at all; the proprietary scientific formula lifts dirt and grime without scratching vehicles or washing away surface wax. After washing the car, you may pour the remaining water on flower beds, grass or down the drain. Washdrops® is a non-toxic solution that will not harm plants or the environment as it is biodegradable, non-foaming, solvent-free, butyl-free, phosphate-free, and ammonia-free.