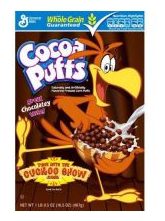 If you like Cocoa Puffs then how about FREE Cocoa Puffs??  Well this week at Target you can get them for FREE.  Here is how to get your FREE box of Cocao Puffs.
Go to the Betty Crocker website and print $1.00 coupon for Cocao Puffs.   You should be able to print 2 per computer.  Then go to Afullcup.com Target Coupon Generator and print the coupon for $1.00 off General Mills cereals.  If you print 2 of the Cocoa Puffs coupons, then print 2 of the General Mills coupons.
The Cocoa Puffs are on sale for $1.99 this week so the two coupons (1 manufactor and 1 store coupon) will make it FREE!
If you have access to more than 1 computer you can print out more Cocoa Puffs coupons.
(thanks WorkAtHomeMafia)