I'm proud to partner with CVS/pharmacy for the next three weeks for this #ExtraSavings at CVS campaign. Please join in the fun by posting to your own website, Facebook page or Twitter feed and use the hashtag #ExtraSavings. While I am being sponsored to help lead this campaign, all opinions expressed about CVS/pharmacy are my own, and all product claims or program details shared should be verified at CVS.com or with the appropriate manufacturers.
FREE Gas Card at CVS
Did I get your attention?  Each week now through July 19, 2014 you can easily earn a FREE Gas Card at CVS buying things your family needs.   You may remember this promotion from last year.  It was such a big hit, that CVS has brought it back again.  I think it's a great idea and a HUGE help with the cost of gas.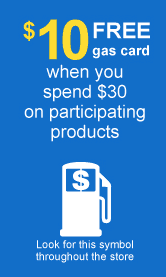 There are hundreds of products in the store that are part of this program. Just look for the Gas Tank symbol in the ad and in stores to see what items go towards your FREE Gas Card at CVS.  All you have to do is purchase $30 worth of these products and use your ExtraCare card, and you'll automatically get a coupon for a FREE $10 Gas Card.  The gift card you receive will vary from store to store depending on your local gas stations.   Categories included in the promotion range from summer health necessities to personal care products to food and beverages!
But you MUST use your ExtraCare card.  If you don't have one you can get one in store or onilne at CVS.com.
Speaking of online at CVS.com, you can also find these items in you MyWeekly Ad.  And did you know that now you can send your ExtraSavings straight to your card?   There are several ways you can easily and conveniently find your offers and send them directly to your card to start saving immediately, whether at home or on-the-go.  ExtraCare members can access your options via CVS.com, on your mobile devices or through the CVS/pharmacy iPad app.
Email: shoppers can sign up for ExtraCare emails at CVS.com/ExtraCareEmail to receive personalized savings offers and ExtraBucks® Rewards in their email. Recipients can open the email, click or tap "Get Coupon" and they will be directed to a page prompting them to click "Send to Card". The savings can then be applied to their next purchase in-store if they choose to use them when asked by the cashier.
CVS.com or CVS Mobile App: by logging into their ExtraCare account at CVS.com/ExtraCare, cardholders can view the offers listed in the "My Savings and Rewards" section and click or tap on the Send to Card option right next to each coupon or reward.
myWeekly Ad: for shoppers who choose to browse the new personalized digital circular, myWeekly Ad, it is also very easy to take advantage of paper-free savings when preparing for a trip to CVS/pharmacy. Users can simply log into CVS.com/myWeeklyAd to view their individual offers listed in the "ExtraCare Savings" section and then choose to Send to Card those coupons or rewards they plan to redeem.
Some of my favorite products included in this Gas Card promotion this week are:
Coke 12 oz cans, 3/$9
Nature Valley Bars, 2/$5
Coke 2 liter, 4/$5
Dial Bar Soap or Body Wash, B1G1
Right Guard Today Defense Body Wash, B1G1
Ajax Dish Liquid (14 oz), $.88
Gillette or Venus Razors, $8.99
Sparkle Paper Towels (8 pk), $5
Quilted Northern (9 pk) or Angel Soft (12 pk), $5
Johnson's Baby Wash or Lotion, 2/$6
Speed Stick or Irish Spring Gear, 2/$8
CVS Baby Wipes 2/$4
Total Home Household products (select), B1G150% off
5 Gum (15 ct) $1
Cheetos or Fritos, 2/$5
Check the store for all the items that will earn you a FREE Gas Card at CVS.  Only one gas card per card each week.  But next week you can earn another one.