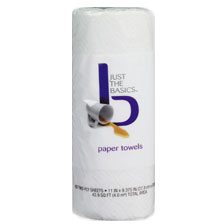 FREE Paper Towels at CVS  | Just The Basics Single roll paper towels
CVS/Pharmacy has a line of products called Just The Basics and they include a variety of household products that are very basic and just do the job.  That means they don't have any bells and whistles but do the job that needs to get done.  They also cost less than the brand name.
If you've wanted to try some of these products this week you have the chance to pick up the Just The Basics Single roll paper towels for FREE at CVS.  Just scan your card at the Coupon Center and get a coupon for $.79 off the single roll, which they sell for $.79!
Just the Basics Single roll Paper Towels, $.79 each
Use $.79 CVS Coupon
FREE after coupon!
This sale ends 3/29/14 and you'll need an ExtraCare Card to receive this savings!