FREE Shipping at The Body Shop today only, February 23rd, with a $15.00 purchase. Just use code FREESHIP15 when checking out.
With a sale like this, I try to see how much I can get for as close to the FREE Shipping amount.  Of course unless it's a store I shop at all the time then I'll stock up on my favorites without having to pay shipping.
I love The Body Shop Wild Cherry Soap
but I don't buy it too often because honestly $4.00 for a bar of soap is a lot to me.   But they have a sale right now, when you buy 3 soaps you get 1 FREE.  So I added 5 soaps to my cart (to make the total over $15.00 after the free one) and then put in the FREE Shipping code and my total came to$17.12 with tax.  That comes out to $3.40 per bar of soap.  Not a bad deal.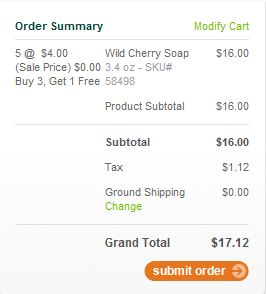 If you really want to stock up then buy 8 and pay only $3.00 a bar with the FREE Shipping.