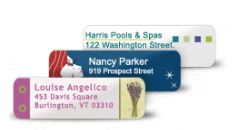 The offer for the 140 FREE Address Labels is back.  I've ordered these several times and they are Great Quality address labels.  I have different labels for different times of the year and I'm anxious to use my Spring labels (with flowers) because I want Spring to be here!!
You can personalize these however you like.  Another good use for them, instead of making address labels you could make book labels "This Book Belongs To", or gift tags or if you are an independent sales person you can make them with your name, number and email address and attach them to catalogs or brochures!  There are lots of ways to use these FREE 140 Address labels.
You do have to pay shipping which is about $2.00 and they are going to offer you other deals, just skip through them until you get to your shopping cart.  Unless of course a deal catches your eye!