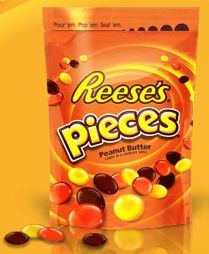 Wow here is an AWESOME Freebie!! Who doesn't love chocolate! I know I do, but I love chocolate and peanut butter together even more!!!  Free Sample Freak Brandie emailed me about this GREAT Freebie!
If you are part of the Wrapper Rewards Program, you can send in a rebate for a FREE bag of Pieces.  All you have to do is exchange a Reese's, York, Almond Joy, or a Hershey's Special Dark candy bar wrapper for a FREE bag of Pieces.  That's pretty simple, huh?
**Offer expires 2/10/20 and they must receive your candy wrapper (with the UPS code on it) and their form by 2/26/10.
And just a heads up:  Become a fan of Reese's on Facebook and stay tuned for details on how to get another FREE bag or Pieces next week!