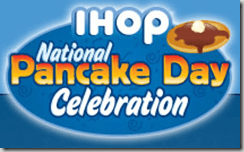 I had no idea there was such a thing as National Pancake day. But there is and it's Tuesday, February 23, 2010. And in honor of that IHOP is giving away FREE short stack pancakes to all customers starting at 7am and until they run out! They are asking you to consider making a donation to support local children's hospitals, but you don't have to.
So mark your calendars and go get some FREE Pancakes on February 23rd!  And if you know when National Chocolate Day is, please let me know!
Thanks Saving Cents with Sense!