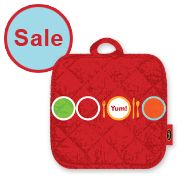 I had no idea Stouffer's had a dinner club but if you sign up right now you can earn a FREE Pot Holder!  I love everything and anything that is red so I'm super excited about t his freebie!
Here's how to get your FREE Pot Holder:
Go to the Stouffer's Facebook site, become a fan and then click the "Dinner Club" tab and sign up (it's FREE). You'll get 100 points immediately after registering and filling in your info on their site.
Then click  "Earn Points" and take the Dinner Survey and you'll get an additional 100 points immediately.
Then click "Rewards" and you can get a Pot Holder (just one) for 200 points!  It's on sale for 200 points so I don't know how long the sale will last.
That's it!  You'll receive your Pot Holder in 10-12 weeks.
Thanks Free Sample Freak!