Daily Checkout has one deal every day and sometimes even FREE.  It's always at the best price you'll find anywhere.  Here is the deal for Wednesday, February 17, 2010.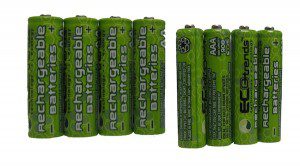 Choice of 4 Pack Rechargeable AAA or AA Batteries, On Sale FREE (retail price $19.99) + $3.99 Shipping
This sale will end at midnight tonight OR when they are all gone so if you want one, grab it now!