This post is Sponsored by Disney's FROZEN but my opinions are 100% my own!
You may have heard on the news, or seen on Facebook that parts of New England were expecting a Blizzard this week… well today specifically.  In case you didn't know, I live in New England and spent the day yesterday preparing my family for this impending blizzard.  I went and bought my bread, milk and eggs (well actually I forgot the milk) along with some staple items to have on hand in case of a power outage.  My husband says I'd still be able to cook if we lose power, I say why bother?!    I filled the gas tanks,  made sure the generator worked and that most of our clothes were clean, again in case we lose power.  The winds they were expecting, made power outages a huge concern.  And of courses we have batteries and flashlights ready to go,  all electronics are fully charged –  we are prepared!
That was yesterday.  I had no idea what we'd wake up to today and about 2am I woke up and all I could hear was the wind blowing, and my porch swing bumping against the porch rails.  Urrghh!  I never thought to take that down.   I laid there praying it didn't break the side of the porch.   Of course at that point I was wide awake and couldn't sleep. It was so quiet outside, other than the wind.   I peeked out the windows and it was beautiful.  Snow covering everywhere.  The house was bright from the moon reflecting against it.  I didn't try and take a picture because I knew I couldn't capture how beautiful it was.  Untouched snow is calming and I absolutely love it!   I couldn't tell how much was out there, especially because the wind was causing a lot of drifts, but there was a lot, I did know that.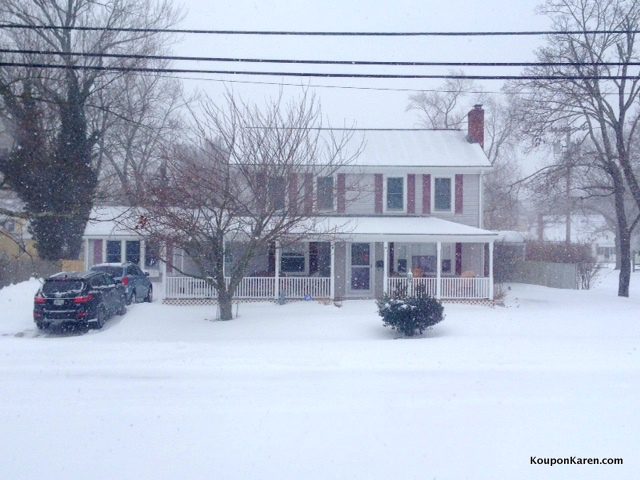 This morning I woke up and remembered that our puppy Max would need to go out first thing in the morning so I bundled up and headed out the back door.   That was when I saw that I couldn't actually open the back door, because there was about a foot of snow against the door.  I slowly pushed it open and thankful the snow was light and fluffy so it moved fairly easily.  Once there was a enough room to squeeze myself and my shovel out there, I was able to make a small path for the dog.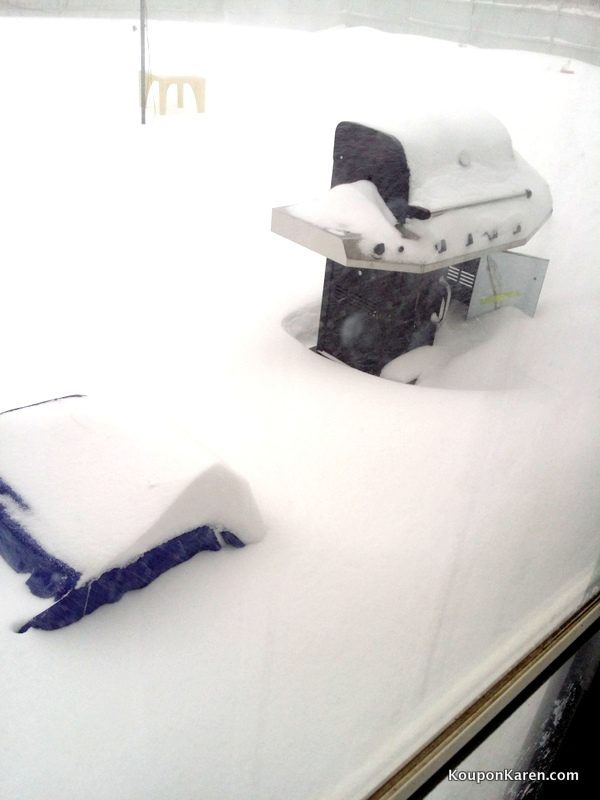 This is what I was dealing with – CRAZY.  And would you believe once I did that he refused to do anything out there!  So I then went to the front and did the same thing.  He eventually found a spot that was good enough for him to do his business.  Oh how I love my dog!
Later on today, when the snow stops, I will shovel our way out there somehow and then cuddle up with the kids and my husband in front of the fire and probably watch some movies.  One movie that is at the top of the girls list is the new Frozen Sing-Along because what better movie to watch on a Frozen New England Day than Disney Frozen!
Disney's FROZEN Sing-A-Long
In case you haven't heard, your Disney FROZEN fans can now get the Frozen Sing-Along Edition on DVD.  My girls are still singing these songs weekly!   We love the music and we still love the movie.
Experience Frozen, the hit musical comedy from Walt Disney Animation Studios, like never before in a new to DVD, full-length Sing-Along Edition! Follow the lyrics with a bouncing Frozen snowflake. Join Anna as she sets off on an epic journey – teaming up with rugged mountain man Kristoff and a snowman named Olaf – to find her sister Elsa, whose icy powers have trapped the kingdom of Arendelle in eternal winter. It's pure enchantment – and full of fun for the whole family!
Not sure how this Sing-A-Long DVD works?  Check out the trailer for "Frozen Sing-Along" here.
Voice Cast: Kristen Bell ("Forgetting Sarah Marshall," "Hit & Run," Showtime's "House of Lies," Broadway's "The Crucible") as Anna; Idina Menzel (Broadway's "Wicked" and "Rent," "Enchanted") as Elsa; Jonathan Groff (2013 Sundance Film Festival's "C.O.G," "Taking Woodstock," Fox's "Glee," Broadway's "Spring Awakening") as mountain man Kristoff; Josh Gad ("The Internship," "Love & Other Drugs," Broadway's "The Book of Mormon") as the lovable snowman Olaf; Santino Fontana (Broadway's "Cinderella," "Brighton Beach Memoirs," "Billy Elliot") as Hans; Alan Tudyk (King Candy in "Wreck-It Ralph," "42") as the Duke of Weselton; Ciarán Hinds ("Game of Thrones") as Pabbie & Chris Williams ("Bolt,") as Oaken
You can find it in stores now!
Disclosure: I received a Free product for review. My opinions are 100% mine.