I am always on the look out for FREE things and when I find them, I like to share them with my readers.  If I have to pay shipping, I'm ok with that as long as the shipping doesn't equal the full price of the FREE item.  That makes me mad!
Here's a FREE offer that my friend Nicole at Nicole's Nickels found and shared with me…
You can get a FREE address Stamp from iPrint.com.  All you have to do is pay shipping of $3.79.  Now that's a GREAT Deal!  Of course as you check out they are going to offer you discounts on all sorts of products but if you don't want them just keep passing by them.  There is on obligation.  I rarely take advantage of those offers unless they are REALLY good!
If you'd rather get some FREE address labels, then you can get 144 FREE Color Address Labels from iPrint too! There are not a ton of designs to choose from but some of them are cute.  These are my favorite: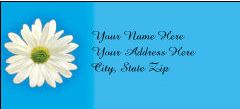 Cute, huh?
If you'd like both you'll have to order them seperate.  I couldn't find a way of putting them both in my shopping cart at the same time.
Order your FREE Address Stamp HERE
Order your FREE 144 Address Labels HERE