Earlier this year the got milk? team revealed the findings of "What America's Missing: A 2011 Report on the Nation's Nutrient Gap." The report explored the idea that while as a nation many of us are obese, we're still not getting the nutrients our bodies need- creating a nutrient gap. Research shows that nine out of 10 Americans are missing key nutrients. To help close this nutrient gap, along with the help of Susan Sarandon, we've launched an education initiative to encourage moms to "Pour One More" serving of milk for their families every day. There are SO many ways to get that extra serving- in cereal, in a smoothie… it's really endless!
My husband is a huge milk drinker.  He drinks 3 things — Milk, Water or Beer — but not together!  I'm glad he drinks milk and I was hoping it would rub off on our daughter's but it hasn't.  We've tried chocolate milk, strawberry milk and coffee milk (it's a Rhode Island thing, it's not really a coffee drink) but they won't do it.  They drank it in their bottles when they were 1 but not after the bottle was gone.  However they do like smoothies so I try my best to push them as often as I can and I always put some in certain cereals they eat.  I figure even if they don't drink the rest of the milk in the bowl (isn't that the best part!) they at least get what the cereal soaks up.  I'll take anything!
And then there is me.   I never drank milk out of a glass unless I was eating cookies with it.  But when I was pregnant with my oldest I craved milk.  And I mean CRAVED it.  It was so odd.  I would wake up in the middle of the night and get up and have a glass of milk!  I wasn't one that ate in the middle of the night when I was pregnant, I just drank milk.   Since I had her I do try to have a glass here and there because I know my body needs it but I didn't know how much until last year when my doctor checked my Vitamin D level on a whim and it was dangerously low.  Besides lacking milk most of my life, I also haven't been in the sun much for the past 7ish years.   So now I make a conscious effort to not only spend small amounts in the sun when I can (I say small because I don't put on sunscreen except my face) I also try to have milk.  I actually just had a glass of milk a little while ago!
I know we aren't the only family struggling to get milk into our daily routine so I'm really excited about the Pour One More campaign and their awesome suggestions on how to incorporate milk more for everyone in the family. Check it out!
WIN IT
(10) Koupon Karen reader will win their choice of one of the following prizes:
Insulated To-Go Cup with straw
Cereal Bowl
Reusable Coffee Sleeve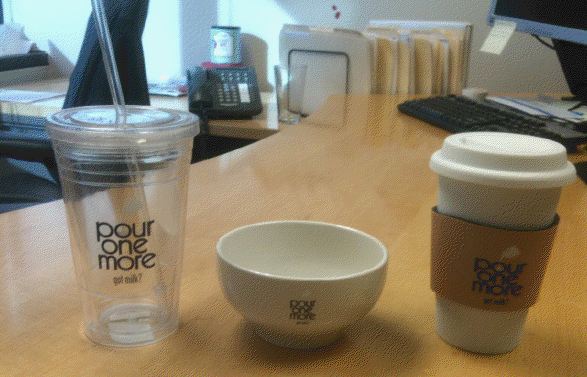 REQUIRED ENTRY
Leave a comment telling me what you do to help your family or yourself drink more milk.  Or if you don't already, what you'd like to do.
BONUS ENTRIES:
1. Follow @MilkMustache on twitter
2. Follow @KouponKaren on twitter
3. "Like" MilkMustache on Facebook
4. "Like" Koupon Karen on Facebook –> I have a new page so if you were previously my "friend on facebook" please like this page as well
5.  Blog about this giveaway.
6. Sign up to receive Koupon Karen daily emails or add me to your favorite reader.
Details: This giveaway is open to US Residents and will remain open until March 12th at 11:59 p.m. ES  T. Any comments left after this time will not be counted. The winner will be selected randomly and will be notified via email and will have 48 hours to claim their prize.
Disclosure: I received some free items in exchange for writing this post.  This did not influence my post and as always, my words are my own.