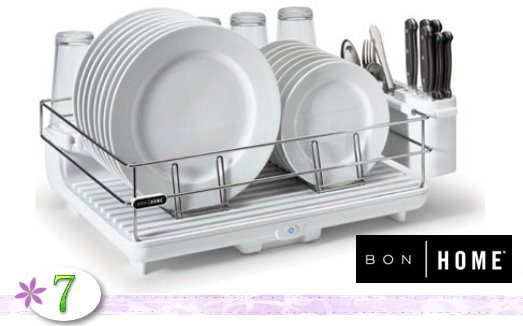 Your probably wondering why we'd add this into our Mother's Day giveaway event because these prizes should be things mom wants and loves, right?  Well this is an exception because it's not your ordinary dish drying rack.  This is a pretty cool dish drying rack because it actually dries the dishes faster than if they sat there and air dried which can be a BIG time saver for mom.  Lets face it someone has to do the dishes and usually it's mom…. at least in my house it is.
So about the Dish Drying Rack…. like I said it's pretty cool.  I mostly use my dishwasher but when I have company over I sometimes have to wash dishes too since my dishwasher wont accommodate everything.  And there isn't always someone offering to help dry them.  So the fact that they dry in 10 minutes is pretty cool because then I can put them away and wash the rest.  As a mom, I really like the concept of this.  I'd prefer someone to do the dishes for me all the time, but that ain't happening anytime soon so for now this will do!
About The Heat & Dry Dish Rack:
Bon Home's Heat & Dry Dish Rack drys dishes in approximately 10 minutes. The Bon Home dish rack is much faster and more sanitary than drying with a dish towel. Saving time, it significantly cuts down on work after meals and it's also great for hard to dry items like baby bottles and wine glasses. You can configure the racks to make it easier to load and it even collapses for easy storage.
You can even watch a short video about the Bon Home's Heat & Dry Dish Rack HERE.
One lucky Koupon Karen reader will win a Bon Home's Heat & Dry Dish Rack!
Entry is simple! You just need to answer the question below by leaving a comment on this site! You can even gain up to 2 bonus entries for doing each additional item listed (just make sure that you leave one entry for each one — up to a total of 3 comments). As a reminder, comments left on Facebook, Twitter or other posts will not be included.
REQUIRED ENTRY:
1.Check out the Bon Home's Heat & Dry Dish Rack, then come back HERE and leave a comment letting us know what your favorite feature is.
BONUS ENTRIES:
1. Follow Koupon Karen on a reader or via e-mail updates.
2. Follow Koupon Karen on Facebook or Twitter.
This giveaway will remain open until 11:59 p.m. EST, Friday, April 29th. Any comments left after this cut-off will not be counted. The winner will be selected randomly and will be notified via email within 48 hours after the close of the contest.
This giveaway is part of the Grateful Giveaways Event being hosted by myself and 11 other bloggers. You can increase your chances of winning one of 12 prizes, by visiting each of them and entering the same way as you did here. You have plenty of time to get to all of them, since the contest will be open for five full days.
Since it can be confusing to remember WHICH ones you have entered, you may want to print out this spreadsheet to help you track which sites you've submitted entries on and which are left to be done.
As one final reminder, you will want to check out the terms of the giveaway by visiting the Grateful Giveaways: Celebrating a Season of Giving Facebook page. Just click on the TERMS tab at the top of the page. (Note that by entering this contest, you agree that you have read the terms and are eligible to enter this contest).
I received the same prize package as the winner to facilitate my review. My opinions of these products are 100% my own.