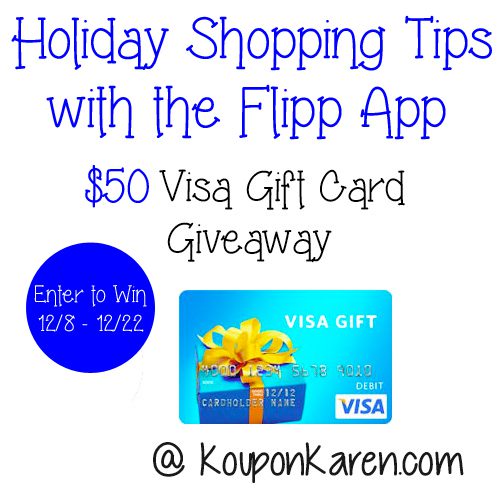 This post is Sponsored by Flipp but my opinions are 100% my own!
Is it just me or does it feel like the holidays just crept up on me?  Having Thanksgiving so late really cuts the season short which I don't like.  I love the Christmas season – all of it!  So a short season makes me feel rushed.   All of a sudden I need to finish shopping and start wrapping.  Thankfully we finally got our Tree up past weekend!
To not feel so rushed and to be able to enjoy the rest of the season, I like to look for help with shopping.  And I don't mean help as in a person because I do all the shopping.  But I mean with an app!  I'm on my phone all the time.  If I lost it, I'd be lost!  One app I use all the time is the Flipp app.  This app is super handy and saves me time in my holiday shopping by letting me view all the ads in one place, and on my phone!  I'm never without my phone.  (It's right beside my mouse right now while I type this post!)
Holiday Shopping Tips with the Flipp App
I'm going to share with you some holiday shopping tips for using the Flipp App.  These tips will help you find what you are looking for faster and the best place to shop for what you want.
Make a List
Make a list of what you need – who and what.  If you know what you are looking for it'll be much easier.  Once you have that list figure out what stores you want to look at for each item.  Some stores may be more specific than others and that is okay.  Once you know what you need where, it'll make looking for them that much faster.
Install the Flipp App
You can install the Flipp App on your Android or iPhone.  The app is free and you can download it from iTunes or Google Play store.
Once you install it, look around for a few minutes to become familiar with the app.  It's super easy to use even for those that aren't tech savvy.  You can search by an alphabetical list for stores, or you can see the newest ones that were updated.  You'll also notice that it'll tell you how much longer that ad is available.  This time of year some ads last longer than a week.   If you already have the Flipp App installed, then make sure it's updated!
Search Store and make a Shopping List Quickly with the Flipp App
If you know exactly what store you are looking for click the top left corner and type in the store name.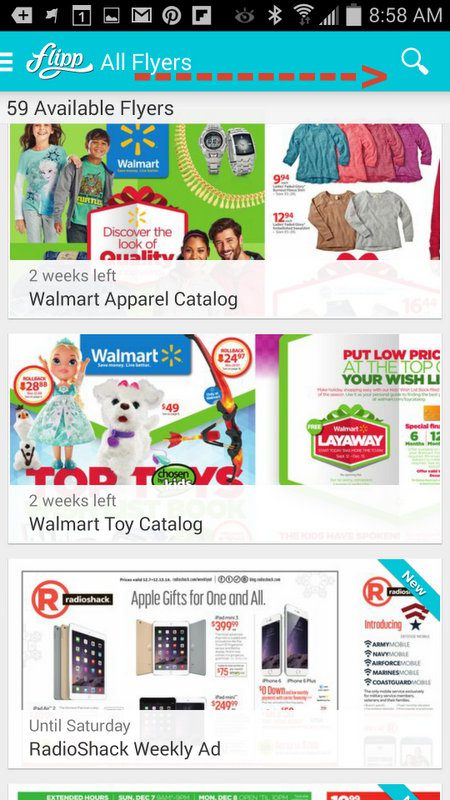 Once you find the store you can easily scan the add by swiping your finger across the screen.   You can even zoom in and out to see all the fine print.   When you find something you want to get just touch it and a circle will appear around the time.  This adds it to your clippings.  If you decide to remove it then just touch it again.
After you've clipped all the items you want to buy, look for your clippings in the menu bar on the top left corner…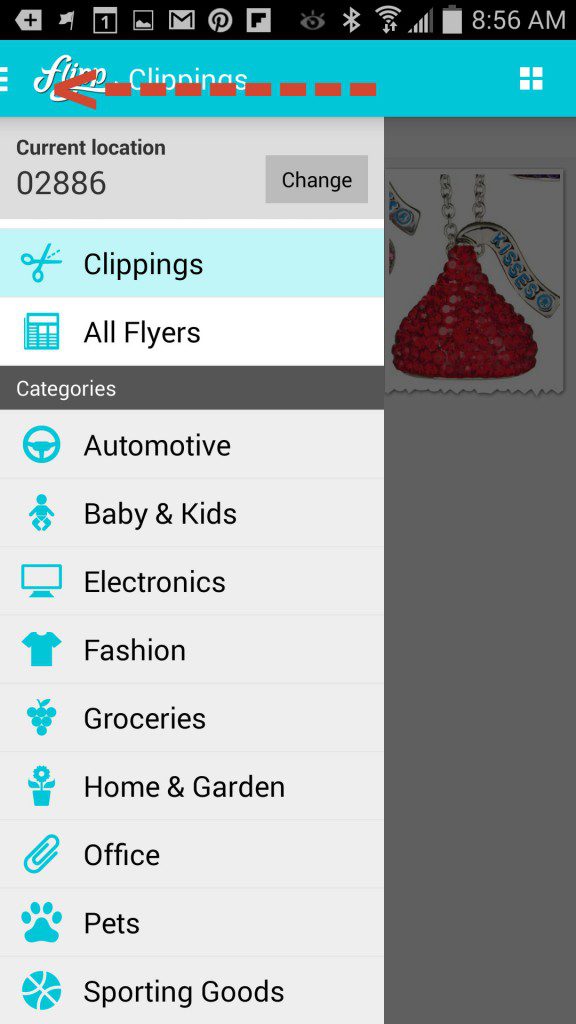 Click clippings and then you'll see everything you clipped from the ads.  These clippings will stay here until you delete them, even if they expire.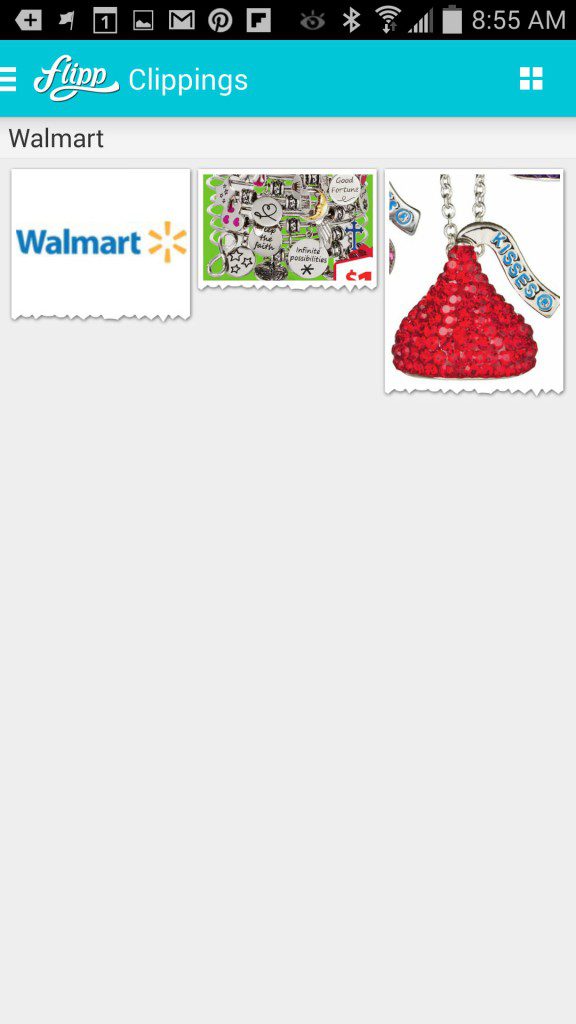 Super handy to use to make all your shopping lists.  I love it!
Find the Best Deals at Each Store with the Flipp App
You can also find the best deals at each store with the Flipp App.  If you are busy and only have time to shop at one store and there isn't anything specific you are looking for, the Flipp App can help you shop at one store for the best deals.  When you pull up the ad, you'll notice along the bottom is a percentage sign.  Slide the bar next to it and it will show you items that will save you that percentage.   See the image below…
All items at Rite Aid that are 33% off will be highlighted in the add.  Just click the arrow button to see the next one.  This is a huge time saver for you to find the best deals in each store.  I use this one all the time!
Flipp will be hosting a Twitter party on Tuesday, December 16, from 9-10 pm ET. The theme of the party is holiday shopping and the hashtag is #Flipptotherescue.  I'll be tweeting along so be sure to stop in and say hi!
And look below for a giveaway here too!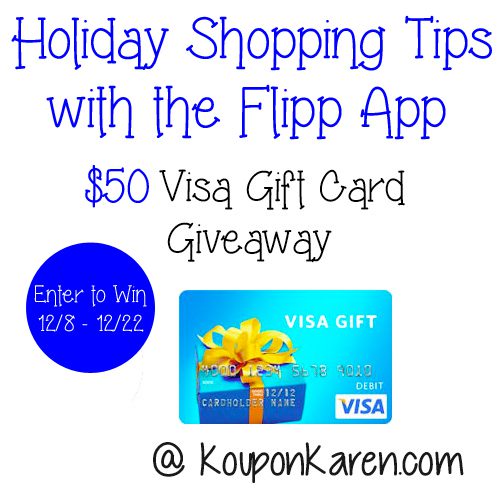 (1) Koupon Karen reader will win a $50 Visa Gift Card to help you with your Holiday shopping.

To enter the giveaway, use the Giveaway Tools widget below. Email and feed subscribers will need to click-through to the site to enter the giveaway.
As a reminder, comments left on Facebook or Twitter will not be included. You must follow the instructions on the widget about the proper way to enter. Of course Facebook is in no way associated with this giveaway!
Disclosure: I received a Free product for review. My opinions are 100% mine.