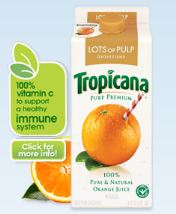 Stop & Shop has their Dollar Doubler coupons out this week where you can double a $1.00 coupon.  This will make the Tropicana that's on sale a very sweet deal.
Tropicana Pure Premium, On Sale $2.50 each
Use $1.00 cpn in RP 03/14/10  insert
Use Dollar Doubler
Final Cost: $.50 each
You must make a mimimum purchase of $15.00 to use your doubler coupons.  But I'm sure you can do that easily.