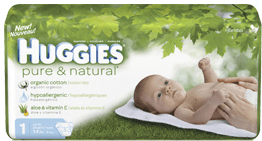 NOTE: 3/3/10 – The $2 ecoupon is no longer available so in the end the diapers will cost $6.99 each. However that's still cheaper than the store and you don't have to leave your house!  You can also mail them your coupons ahead of time to use on your order!
New customers to Diapers.com can get a great deal on Huggies Jumbo pack diapers. Here's the deal
Sign up for a new account at Diapers.com.
Do a search for Huggies and add 5 jumbo packs of either pure & natural, little snugglers or little movers to your cart.  They are $9.99 each
Find a small item worth about $1.99 – travel wipes, pacifier, snacks etc and add that to your cart.  This will bring you over $50.00.

Click the $2.00 ecoupon box at the top of your ordering chart.

No longer available sorry!
Your total needs to be over $49.99 to get free shipping so with that small filler item you should be over $49.00.
Go to checkout and use the coupon code KXUP0749 to receive $10 off your order (just for new customers).
Your total will now be about $39.94.
They will then offer you a free Parents Magazine subscription or a $14.97 rebate just for placing your first order.  Take the rebate and that will bring your total down to $24.97 which comes out to $4.99 a pack and a free small item!
The rebate will take a while to come, but it will come.  You can probably find a FREE subscription to Parent's Magazine in so many other places online so I'd take the rebate and reduce the price of the diapers.
You can purchase any diapers you want, and if they are $9.99 a pack, this is what your total will be.
Thanks Mrs. Moneysaver!