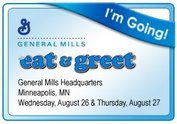 I'm super excited that I was invited to attend the General Mills Eat & Greet in Minneapolis on Aug 26th & 27th.   Not only will I get to tour General Mills, the Betty Crocker Kitchen and studio BUT I will get to meet some blogging friends that will also be there and some really AWESOME bloggers that I admire so much!
I will be sure to take lots of notes and pictures so I can share with all of you.
If you are attending there is a GM Eat & Greet Facebook group.  Email me and I will send you an invite.