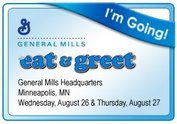 Tomorrow morning I'll be flying to Minnesota to attend General Mills Eat and Greet Blogger event. I was invited along with a huge group of awesome bloggers and I can't wait to meet everyone.
We will be touring the Betty Crocker Kitchen and photo studio, sampling some new (yummy) products and chatting with the people at General Mills all day on Thursday. I'm so excited and probably won't be able to sleep tonight, like when I was a teen and it was the night before the first day of school.
We will be tweeting all about the event while we are there so if you'd like to follow just search #EatandGreet but I'll be sure to tell you all about it when I get back.
There won't be a many posts for the next coupon of days and I may not be able to return many emails but I"ll try my best. Of course I am taking my laptop with me. I can't even believe my hubby asked me if I was taking it. I usually take it when I go visit my mother (who lives 30 minutes away) so of course I'm going to take it with me to Minnesota. Silly!!
Here is the list of the awesome bloggers that will also be attending. Some of them I've been following from before I was blogging and some are new. I'm always glad to add more blogs to my google reader. (The only thing that would make this better was if Pioneer Woman was going to be there too).
$5 Dinners: www.5dollardinners.com
3 Kids and us: http://3kidsandus.com/
3 P's in a Pod: http://www.3psinapod.com
Adventures in Babywearing: http://www.adventuresinbabywearing.com/
BabyCenter's Momformation: http://blogs.babycenter.com/momformation/author/ksauerwein/
Bakerella: http://bakerella.blogspot.com/
Baking Bites: http://bakingbites.com/
Because I Said So: http://mom2my6pack.blogspot.com/
ChefDruck Musings/Traveling Mom: http://www.chefdruck.com
Consumer Queen: http://www.consumerqueen.com/
Cookie Madness: http://www.cookiemadness.net/
Cooking With Amy: http://cookingwithamy.blogspot.com/
Deal Seeking Mom: http://www.dealseekingmom.com
DoubleBugs: http://www.doublebugs.com
Frugal RI Mama: http://www.frugalrimama.com
I Should Be Folding Laundry: http://www.ishouldbefoldinglaundry.com
JANE4girls$800 annual budget: http://jane4girls800dollarannualbudget.blogspot.com/
Just a Mom's Take on Things: http://www.momof3girls.net/
Keeping the Kingdom First: http://www.kingdomfirstmom.com
Life Starring Ellie and Eve: http://www.lifestarringellieandeve.com
Lindstrom's: www.thewondertwins.blogspot.com
MattBites: www.mattbites.com
Megan's Munchies: http://www.megansmunchies.com/
Mel…A Dramatic Mommy: http://www.meladramaticmommy.com/
Mom in the City: http://www.mominthecity.com/
Mommin It Up: http://momminitup.com
Mommy Daddy Blog; http://mommydaddyblog.com
Mommy Goggles: http://www.mommygoggles.com
Mommy Mandy: www.mommymandy.com
Mommy Snacks: http://mommysnacks.net/
Mummy Deals: http://www.mummydeals.blogspot.com
My Brown Baby: http://mybrownbaby.blogspot.com/
Nickels‐n‐Dimes: www.nickels‐n‐dimes.com
Northern Cheapskate: http://www.northerncheapskate.com
Picky Palate: www.picky‐palate.com
Pocket Your Dollars: http://www.pocketyourdollars.com/
Rockin Mama: http://rockinmama.net
STL Mommy: http://www.stlmommy.com
Stretching a Buck: www.stretchingabuckblog.com
The Cent‐Sible Sawyer: http://www.centsible‐sawyer.com/
The Coupon Sista: http://thecouponsista.blogspot.com/
The Dirty Shirt: http://thedirtytshirt.com
The Divine Miss Mommy: http://thedivinemissmommy.com
The Integrated Mother: http://www.integratedmother.com/blog/
The Mommy Files: http://www.themommy‐files.com/
The Mommy Insider: http://themommyinsider.com
This Full House: http://www.thisfullhouse.com/
This Mama Cooks: http://www.thismamacooks.com/
WebFlos: http://webfloss.com
Wise Bread: http://www.wisebread.com