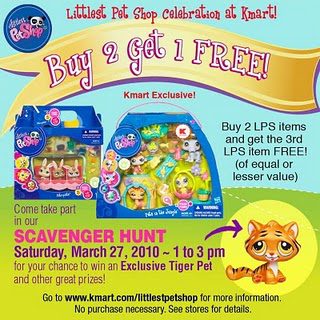 Kmart is hosting a FREE Littlest Pet Shop Scavenger Hunt on Saturday, March 27th 1pm – 3pm.  I believe this is taking place at all stores but I'd check with your local Kmart first.
They will also be having a sale, Buy 2 Get 1 FREE on all Pet Shop items.  Our girls are big Littlest Pet Shop fans and needless to say we have a lot of little critters in our house, but there is always room for more!
Find more details at Kmart.com.
Thanks Sarah's Deals!