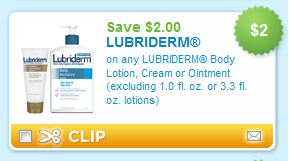 Next week at Walgreen's, the 6 oz. Lubriderm Lotion will be On Sale for  2/$5.69.  Use (2) of the $2.00/1 printable coupons, then use the $1.00 Walgreen's coupon from the Diabetes & You Book (ask at the pharmacy – will deduct $2.00) and then toss in a $.31 filler and you'll get them both for FREE!
The reason for the filler is because with both coupons it will come up a negative amount and they won't allow it so grab something small or combine this with other items you want and it will work fine.
If you can't find the Diabetes & You coupon booklet then your final cost will be $.85 each which is still a pretty good deal considering these are about $3.79 full price.
I suggest that you print the coupon now because it may be gone by next week.  You should be able to print 2 per computer.
There are also some deals on Roc, Aveeno, and Clean & Clear Products so you might want to print those coupons too!

thanks, NWA Deals!