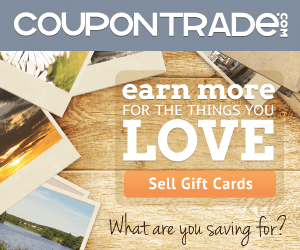 If you have some gift cards sitting around that you don't think you'll use, why not sell them and get cash for them? That is what CouponTrade does! They are the first and only discount gift card resale marketplace that lets you buy and sell gift cards and e-gift cards! CouponTrade also maximizes your savings with deals, coupon codes, free shipping codes and giveaways.
Look through your draws and find those gift cards that you've been hanging on to, but haven't used.  Turn them into cash.   It's really easy to list a gift card and you'll make real cash from them!!!  You can sell it for full value or less, you control how much it sells for.
I occasionally receive gift cards when I write for companies but sometimes I don't need anything from that store.  So what happens?  They collect in my desk draw.  I've decided rather than keeping them until I need them, I'm going to turn them into cash and use them on things I always need – like Groceries!
Here is my pile of gift cards….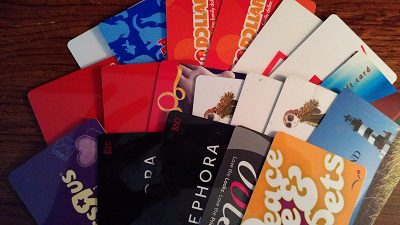 I could probably do my grocery shopping for the rest of the year with all the gift cards I have right now.  And none of them are to any food stores so I will sell them on CouponTrade and turn them into cash!
To see just how simple it was, I set up an account to list a gift card.  I had a $100 Pet Smart gift card that I had no use for since I don't have any pets.  In order to sell a gift card, you must be verified and it's real simple to do with a credit card.  They won't charge your card, but they need it to identify you.
I choose the price I wanted to sell it for and put in all the information for the gift card (account number etc).  It was very simple and I was done listing it in just a few minutes.   They even gave me the link to see my gift card once it was approved.    The approval process didn't take too long but that can vary depending on when you list your card.   Now my card is listed and I'm just waiting to sell it.  It really was that easy.
CouponTrade has a brand new website that I think it super easy to navigate.  Check it out and let me know what you think!  While you are there Consider selling a gift card – it's a great way to make some extra cash!
My friend Keri Lyn at SheSaved.com shared with her readers how you can save money by purchasing discounted gift cards on CouponTrade too!  Check out her post!
**Update I sold my gift card in less than 24 hours!  So now the $100 Gift Card that was sitting in my desk is now going to be $75 cash in my paypal account in about 3 days!!!
Disclosure: This is a sponsored post as I am a brand ambassador working closely with CouponTrade. These opinions are 100% my own.