NEW myWeekly Ad from CVS/Pharmacy  to Help You Organize Your Shopping List
I love shopping at CVS/pharmacy.  It is my favorite store and I love their ExtraBucks program.  Each week I make a list of what items I'm going to purchase along with my coupons and ExtraBucks before I go shopping, otherwise I'm sure to forget something…. and that is usually the one thing I really need!   As you may already know I work closely with CVS/pharmacy on different promos and they usually share their new programs with me so I can check it out and then share it with you!
Well I'm excited to tell you about a new feature on their website which gives you a completely new way to browse the weekly sales circular.  It's called myWeekly Ad and it reinvents the traditional circular – instead of 45 million people checking one circular to see all the same sales and deals on the front page and inside, those 45 million people can access their own version of the weekly sales ad – and each of you will see the deals and sale items for the week that matter most to you!  You'll be able to easily find the best deals on your favorite, frequently purchased products, as well as create detailed, sharable shopping lists and even quickly scan all the items you can buy to earn circular ExtraBucks Rewards that week.
How do you use it?  Head on over to CVS.com and notice in the top right hand corner you'll see a little image of the ad and the words myWeekly Ad next to it.  Click on that.   You'll have to sign into your account which is connected to your ExtraCare Card.  If you don't already have an account you can quickly set on up.  Then the myWeekly Ad will appear.
Here is a screen shot of myWeekly Ad which is tailored towards the items I buy most…..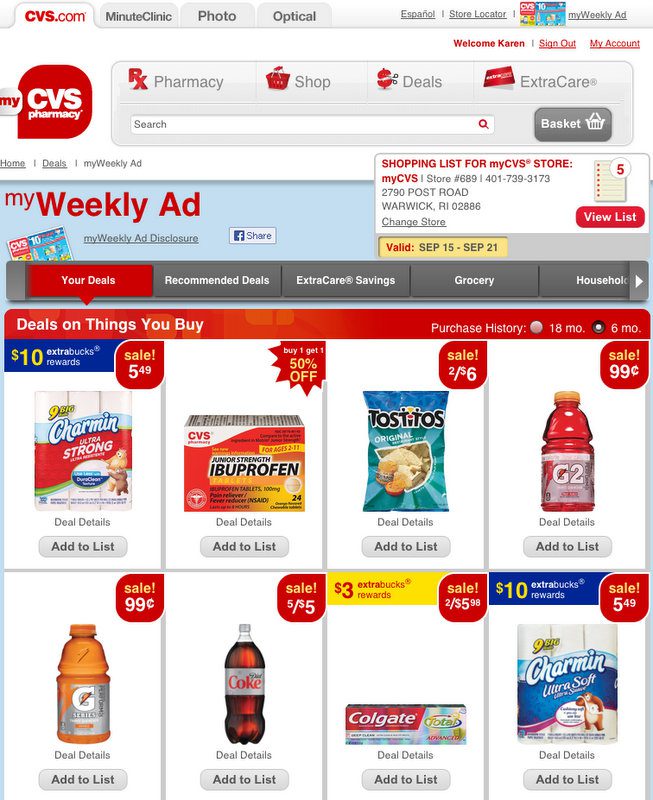 You'll notice the first tab is highlighted in red and it says "Your Deals".  Those items I purchase regularly and are on sale this week.   They only show up there because they are on sale.  This way you can quickly glance at the sale items you purchase most.  I love this!  It even tells me that I can earn ExtraBucks on some of those items!
You'll notice the third tab that says ExtraCare Savings….. that will list any coupons you already printed at the Coupon Machine in the store or new ones you haven't printed yet.  This is very helpful in planning your shopping trip.  If you've already printed them at the store and you don't have them, that's OK because you can print them again at home!  See below…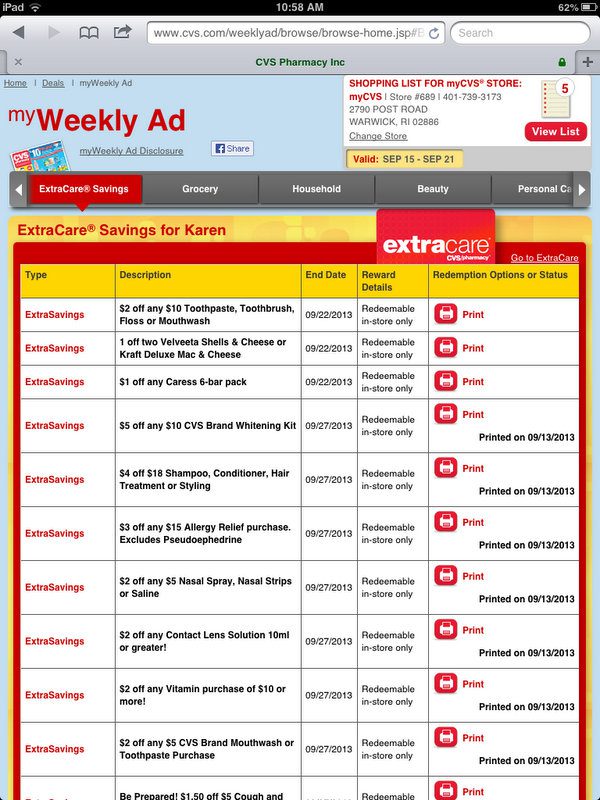 If you only want to see the Grocery items that are on sale that week you can just click the "Grocery" tab and only those products will show.  And again if there are any ExtraBucks Rewards, they will be noted on the top of the item.  These are all items on sale, not just the ones you buy most.  See below….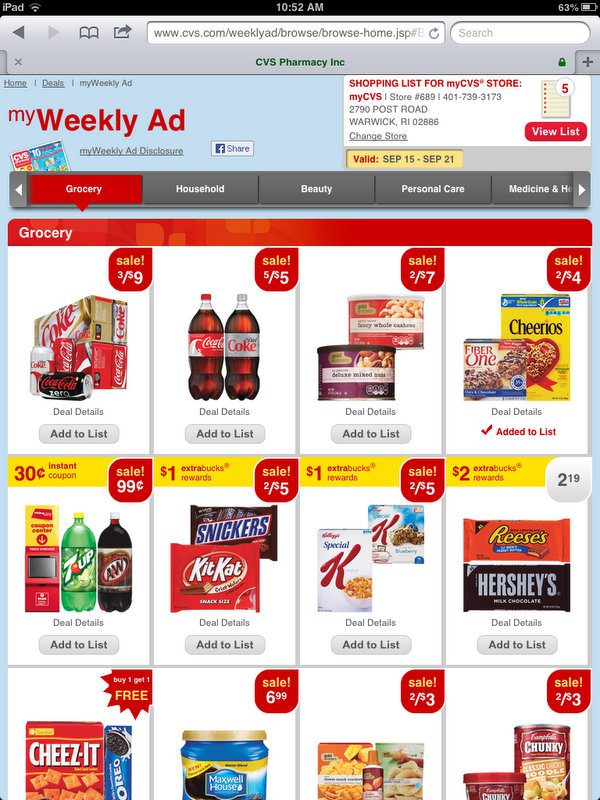 You can do the same for Household, Beauty, Personal Care, Medicine & Health.  This is perfect for that person who only shops for Beauty at CVS/pharmacy (or another type of product).  You don't have to weed through the entire ad to find the things you want.  And there is less of a chance that you'll miss something if they are all grouped together.   My guess is that these tabs will change according to what is in the weekly ad.  I bet we'll see a Holiday type tab soon for those items!
Now the idea behind this is as you find items you want to purchase you 'Add to List' so you don't have to write down everything you want to purchase.  Once you are done shopping the circular you can click on "View List" which you'll find at the top right of the myWeekly Ad … it looks like this…

Then you'll see a list of all the items you added to your list.   You can look over the list to see if you added something by accident or if perhaps you need to delete something you can easily delete it from you list.  You can use this list to then visit my Coupon Database to see what coupons are available to use and save some money.   You can also add things you've bought before that you need to purchase again this week.  This is for items that aren't on sale.  So for instance if you need to purchase a birthday card and you've purchased them before at CVS/pharmacy you can click on "Add Things You've Bought" and you'll see a list of items.  If you aren't signed into your account you'll have to before you see that list because the list comes from your ExtraCare card.   Just add those items to your list and go back to your shopping list.   See my list below…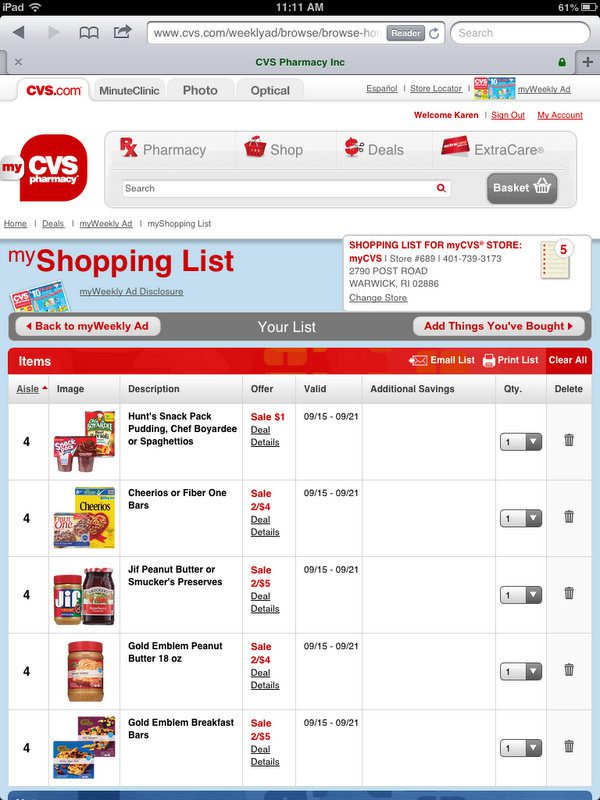 If you are using an iPad mini like I am, you can easily keep this right there and then take your iPad with you to the store and your list will be right there for you.  But if you are making your list from your desktop, it may be a little more difficult to carry that to the store.    (LOL).   Look along the right hand side at the top of your list.  If you like to save paper, you can email the list to you and the have it in your email to quickly grab from your phone, or email the list to someone else…. like perhaps your spouse so he/she can go shopping for you?  Or you can print out your list.    You can even add notes to the bottom of your list that will print out your list.
So what do you think?  I love this new tool and I will use it this week while shopping this week.  I will probably print out my list and then note any coupons on there.   That way I don't forget to give the cashier my coupons.   However, I could use the notes section and list them all there.  I will try it a few ways to see what works best for me.  It would be nice to just put everything into the list and then just pull my list up in the store.
I hope all those screen shots helped you in learning how to use this awesome tool that CVS/pharmacy has given us.  And if you try it out and have any feedback let me know because next week I'll be taking a trip to the CVS/pharmacy headquarters in Woonsocket RI (I don't have too far to travel for this one!) and they will be looking for feedback from myself and the other group of bloggers on this new program.  All those awesome images that I posted above came from the iPad Mini that CVS/Pharmacy so graciously sent me so I could try out myWeekly Ad and share it with my readers!!!  It really was fun to navigate around myWeekly Ad on it and I will probably use it each week for my shopping list.  My girls were also excited to see the iPad Mini when it arrived because all they were thinking in their heads were "We Got an iPad Mini" and all the games they'd like to download onto it!  😉
So head on over to CVS.com and check out the myWeekly Ad and let me know what you think!
Disclosure:  CVS/pharmacy sent me an iPad Mini to help me navigate the myWeekly Ad feature, provide them feedback and to share with my readers if I choose.  I am not obligated to do so.  They are also paying all my expenses to spend a few days with them in Woonsocket, RI.  I will choose to share with you what I want and CVS/pharmacy will not influence me in doing so by offering me any of these items.  My words are 100% my own.