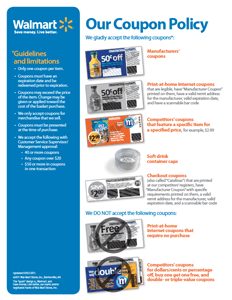 While I do like to shop at Walmart, I don't use many coupons there for several reasons one being they don't double coupons and my grocery stores do!  Well they have a new and improved coupon policy that they just released and while they still don't double coupons they are becoming more coupon friendly.
Here is the deal…
Walmart will accept the following coupons:
manufacturer's coupons
Internet printable coupons
competitor's coupons that have a specific price listed
soft drink container caps
Catalina coupons clearly labeled as "manufacturer coupon"
Provided they meet the following criteria:
one coupon per item
coupons must have an expiration date and be redeemed prior to expiration
change or overage will be given if a coupon exceeds a purchase
coupon must be for an item Walmart sells
coupons must be presented at the time of purchase
Walmart does not accept the following coupons:
Internet printable coupons for a free product
competitor's coupons for dollars, cents or percentage off, B1G1 free, and double or triple value
Management approval will be required for:
transactions with 40 or more coupons
any coupon with a value over $20
$50 or more in coupons in a single transaction
I love the idea that they will now give overage on coupons.  It just doesn't make any sense not to since they get the face value and I also am glad they are now going to take Catalina's that print out at other stores.  However it's not clear if that includes Walgreen's Dollar off Catalina's but once I hear more on that I will let you know.
I suggested you download and print the New Walmart Coupon Policy and put it in your coupon binder just in case they don't have it at the register when you go!
So will this new coupon policy make you shop at Walmart more? Or better yet use coupons at Walmart?  I know we will need to give all the stores time to implement the new policy but I'm excited and I hope my store follows through without a hassle.
thanks Deal Seeking Mom!